MyCARE Patient Portal Roadmap
Added: January 2022
We are constantly looking at ways to improve our MyCARE patient portal, working closely with our patients to understand how we can better enable them to manage their appointment information.
Since the platform launched in 2018, we have continued to add significant new functionality, including viewing appointment letters and discharge summaries, adding appointments to your personal calendars and viewing test results on the Apple Health App (iOS devices only). More recently, and to ensure that we continue to receive feedback from patients, we integrated the NHS Friends and Family Test with MyCARE, allowing those who have attended an Outpatient appointment to provide their feedback directly after receiving an SMS message. Find out more about this service here.
As a digital-first organisation, it's important that we seek to develop the functionality we offer to patients and we always encourage patients to share their suggestions and feedback. We're hugely excited about our proposed plans for the next 12-24 months to improve patient access and make it easier to manage your appointments. Take a look at the graphic below to find out more.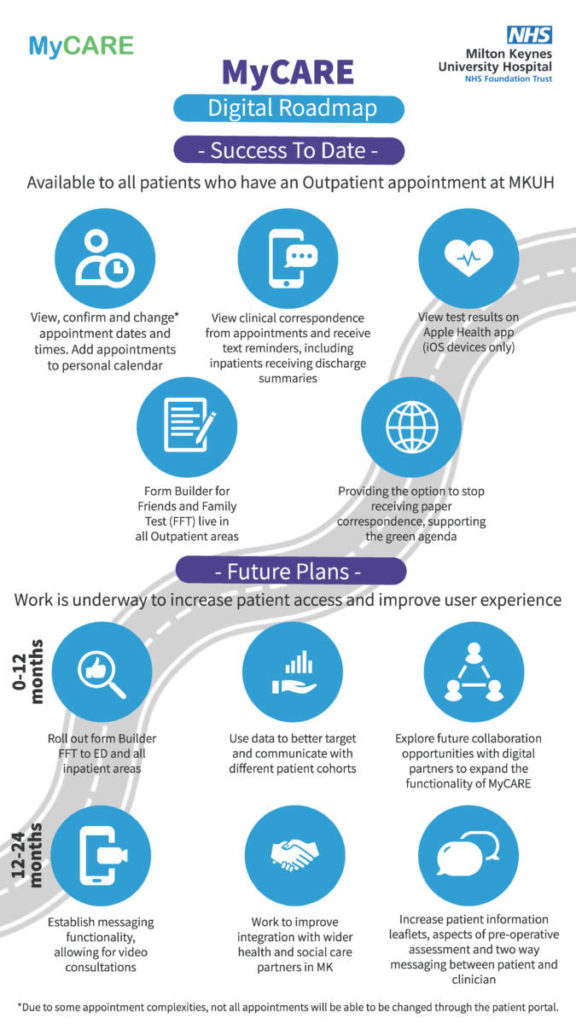 If you have any questions, or have any suggestions as to how we can improve our MyCARE platform, please email [email protected]
Last Modified: 9:05am 18/01/2022