Apprenticeships, Work Experience & Careers at MKUH
Apprenticeships
Milton Keynes University Hospital play an active role in recruiting and supporting apprenticeships across the Trust. Apprenticeships are a fantastic way to gain an industry recognised qualification alongside your normal job role and you are able to benefit from gathering an insight into your next potential career.
If you are looking for an apprenticeship opportunity within the NHS, please see the NHS Jobs site here. Alternatively, if you are a member of staff, please contact the Learning and Development team.
Community Outreach
The Apprenticeship Team work with local community organisations to raise awareness of NHS careers and employment opportunities at MKUH. We collaborate with various organisations such as the MK YMCA, Princes Trust and most local secondary schools. We can deliver bespoke careers sessions and content that suits the needs of your service users or students. If you are a community organisation that would like to find out more, please email [email protected] if you would like to discuss this further.
Careers Insight Videos
For information on careers at MKUH and in the NHS, please click here.
Work Experience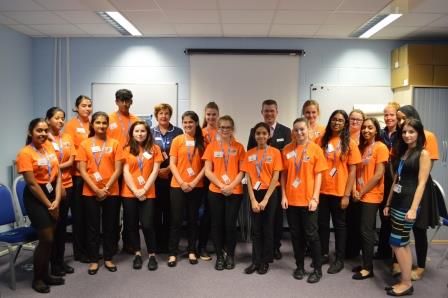 Work experience opportunities are open to students aged 16-18 years old, who attend a local secondary school, or live within Milton Keynes. Due to high levels of demand, students can only be considered for one placement at the Trust.
If you are over 18 years old, we cannot currently offer work experience. Alternatively, you could consider volunteering.
Application Process
Please email [email protected] to request an application pack stating which work experience programme you would like to be considered for. To note, there will also be supporting documentation that you will be responsible for collating and no placement will be considered if an incomplete application is submitted.
Programmes
Here at Milton Keynes University Hospital we have four structured programmes of work experience:
A 5-day Clinical experience for 16–18-year-olds. This programme is run twice a year, in February half term and in the summer holidays. Application windows vary and will be communicated via our work experience email address.
A 2-day ED work experience for those that can demonstrate they are eligible to apply for medical school.
A 3-day Physiotherapy work experience for those interested in the field, and ideally studying sports science or a similar qualification.
A 1-day Imaging work experience for those interested in Imaging, Medicine or those who have a general interest in healthcare.
There are also a number of ad-hoc work experience opportunities, subject to availability in an area of interest.
We have created a directory of placements to support you in choosing an area of interest, please click here to download it.
Restricted Areas
Due to the need to protect students from potentially upsetting situations, the need to safeguard patient confidentiality and Health & Safety concerns – the following areas do not offer work experience placements: Mortuary, Theatres, Department of Critical Care, Paediatrics, Children's Services and any unit that requires a Disclosure and Barring Service Check. Please be mindful of this when specifying areas when applying.  All work experience applications must adhere to the correct process and have their attendance authorised by the Learning and Development Team. This is not only to protect the Trust and its patients but also the student that is coming into the Hospital.
Work experience is an important part of our widening participation within our local community. It is our aim is to help raise the aspirations of students and for them to gain an insight into all the careers within the NHS.
Last Modified: 8:59am 16/02/2023