Jes Sargeant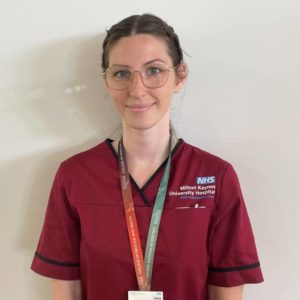 Jes Sergeant – Assistant Practitioner, Radiography
Jes Sergeant joined the Trust straight from school. Having enjoyed her work as an assistant in the Radiology department, she was really keen to progress further. Even though she was on maternity leave at the time, when she heard about studying for a degree through the Apprenticeship scheme, she enquired straight away.
"With a young family and a job, I could never have taken time out to study full-time," says Jes. "When I learned I could study for a degree accredited by the Royal Society of Radiographers, I jumped at the chance."
She is now two years into a three-year course which will lead to her becoming a qualified radiographer – a step up from her current role. As well as the apprenticeship being fully funded at no cost to herself, Jes, like all apprentices at the hospital, is allowed 20% of her working week as study time."
"Having specific time allowed for study is absolutely brilliant. It obviously doesn't cover all the time you need to do all the work and assignments required but it makes a big difference and means I can give the coursework proper focus rather than trying to fit it in between all the other demands on my time."
The three-year course is conducted online via study modules and assignments, with students travelling to the University of Exeter's Devon campus for one residential week at the start of each term. The cost of travelling and accommodation for this is also covered by the apprenticeship.
"I'm really enjoying studying again and it is good to be able to put some of the things I've learned into practice during my working hours," she says. "I think the opportunities offered through apprenticeships are a really good way of helping staff develop. I would encourage colleagues to look into it as there are so many options and routes leading to many different qualifications."
For more information on the wide range of apprenticeships available here at MKUH, email [email protected]
Last Modified: 9:56am 07/02/2023