Andy Marfleet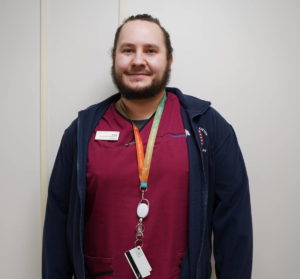 Andy Marfleet – Assistant Practitioner, Radiography
Andy Marfleet had been working in the Radiography department at MKUH for a few years and was keen to progress. But like so many members of staff, taking dedicated time out to study for new qualifications wasn't an option for him.
That's when he heard that the HCPC had accredited degree-level course at the University of Exeter. He checked it out and discovered that MKUH could offer him the opportunity to study for this valuable qualification via the Trust's apprenticeship scheme.
"It was such an exciting opportunity. It meant I could keep working and earning money while studying towards my degree," explains Andy, who was one of the first cohort for the distance learning course when he enrolled in 2019.
All the study is done online, with the exception of a residential week at the University's Devon campus the first week of every term.
"I've really enjoyed the studying, and being able to put my new knowledge into practice during my working week has been great too," says Andy, who when qualified, will be a diagnostic radiographer in the busy hospital Imaging department. "The support has been really good, both from a Trust perspective but also from the tutors at Exeter. There are regular online drop-in sessions which are really useful, especially when an assignment is due."
The course content has proved exceptionally useful. Radiographers work in all areas of the Imaging department, including x-ray, MRI, and CT scanning, and the course has also given Andy the opportunity to consider areas that he might want to specialise in after graduating, including ultrasound and reporting.
"Doing an apprenticeship has been one of the best decisions I've made. I'm particularly pleased to be able to do it alongside my work as the practical experience of interacting with patients really enhances the coursework," adds Andy.
For more information on the wide range of apprenticeships available here at MKUH, contact [email protected].
Last Modified: 9:44am 06/02/2023