Hannah Serwaah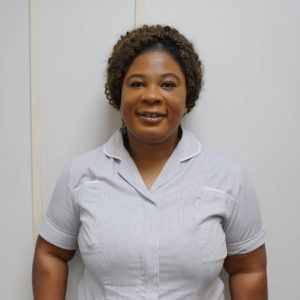 Hannah Serwaah – Healthcare Assistant
As a Healthcare Assistant (HCA) on Ward 19, Hannah Serwaah was very keen to access any opportunities that would help her progress in her role on this busy ward. Hannah, who previously worked in care homes, joined Team MKUH in 2017 as she wanted the challenge and variety that comes with working in a hospital setting.
Even though it is a few years since she was in education, Hannah has found studying for her Level 3 Healthcare Support via the Apprenticeship route to be both enjoyable and manageable.
"Several of the nurses on my ward encouraged me to go back into education so that I could progress here," says Hannah, who works nights. "The structure of the course is really good and, as it is all online, I can study modules at times that suit me. It really helps that I am working on the ward at the same time as I'm learning in practice every day and gaining new knowledge from my course that I can apply on a day-to-day basis."
Hannah has also found the support from the MKUH Apprentice Team to be really helpful.
"They have been so good, and they are always happy to answer any questions or queries I might have. The course tutors are also very approachable and supportive."
Like so many staff at the Trust, Hannah also has to juggle the demands of family commitments and, even with three school-age children, she has carved out the time to finish each module and is preparing her dissertation before the 18-month course ends in the spring of 2023.
Hannah already has plans to do another apprenticeship – this time Level 4 Healthcare Support.
"I wouldn't have been able to go back into full-time study, so being able to do an apprenticeship and work at the same time has made it possible for me to increase both my working knowledge and qualifications," she says.
For more information on the wide range of apprenticeships available here at MKUH, email [email protected].
Last Modified: 9:03am 07/02/2023