Meaningful Activities at MKUH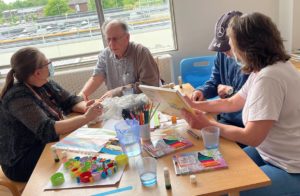 MKUH is fortunate to have our own Meaningful Activities Facilitator, one of only two trusts in the country to have this role. Helen's post sits within the Patient and Family Experience team and is currently fully funded by Milton Keynes Hospital Charity. Her aim is to enrich the experience for any adult patient who is perhaps feeling low in mood, having difficulty being in hospital, or needs some encouragement to support their wellbeing.
Helen worked at MKUH as a Healthcare Assistant for 6 years before returning to education to complete a degree in Creative Expressive Arts, Health & Wellbeing at university.
Helen works with patients of all kinds, especially those with a dementia diagnosis, or with a lengthy hospital stay. She works on all wards offering a range of activities, from painting and clay work to creative group activities. After a year in post, she has had many positive reports on the difference the activities have made to patients.
"I would recommend [meaningful activities] as it put me at ease in a stressful environment and helped me get through the difficult times as I was learning new things such as different techniques, strokes, and patterns in watercolour painting. This made the time go faster when I was in hospital and I have found another hobby that I didn't realise I would have enjoyed. Thank you, Helen", said a younger patient Helen has visited.
"Often, being a patient can be incredibly boring and having something to stimulate your mind can really make a difference to your wellbeing, especially when you are unwell", says Helen. "Getting the chance to meet new faces can also give people a bit of a lift, so it's a lovely role. You really feel that you are making a difference to the patient's day".
Helen has been working alongside Healthcare Assistants, taking part in their induction skills session, offering information and support on the benefits of providing activities throughout their patients' hospital stay. Meaningful activity volunteers will also be starting soon to further support Helen's role and the ward staff.
Helen is now trialling a dedicated Activities Trolley on Ward 14, so that there are always plenty of resources for patients to make the most of – including pens, crafts, reminiscence tools, and modelling clay. She hopes that, eventually, every adult inpatient ward will have one of these to make the patients' day a little more varied.
To refer a patient to Helen, please contact her on EXT: 85120 or email [email protected]