New Cancer Centre Help Line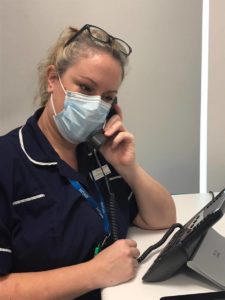 Milton Keynes University Hospital has launched a new Cancer Patient Help Line for patients to use regarding questions and queries about Cancer Services and concerns regarding Covid-19 and how it impacts their appointments or treatment.
The helpline will be open seven days a week from 9am to 5pm. The number is: 01908 997634.
Fay Grech-Marguerat, a Macmillan Wellbeing Advanced Nurse Practitioner who is based at Milton Keynes Cancer Centre, said: "We understand that this is a challenging time for everyone, including cancer patients, and sometimes people need to be able to call someone about concerns they may have. Or they might not be sure about what to do, or what the latest situation is with COVID-19 and the Cancer Centre at MKUH. This is why we have introduced the new helpline, as a direct route to one of our team members.
"We would encourage anyone with these types of concerns to give us a call on our new helpline, where we will endeavour to respond to those queries and help to give people the reassurance they need and the information they require.
"We are still fully operational in terms of appointments and treatment. Patients should still attend as planned unless they are contacted otherwise. Some clinics are still running over the phone and our Macmillan Wellbeing Support Group is running on Teams. But otherwise we are open and running as normal. However, there are still restrictions regarding visitors."
Last Modified: 12:23pm 04/12/2020
For all media enquiries please contact [email protected]