Patient Bag Drop-Off service delivers over 7,800 bags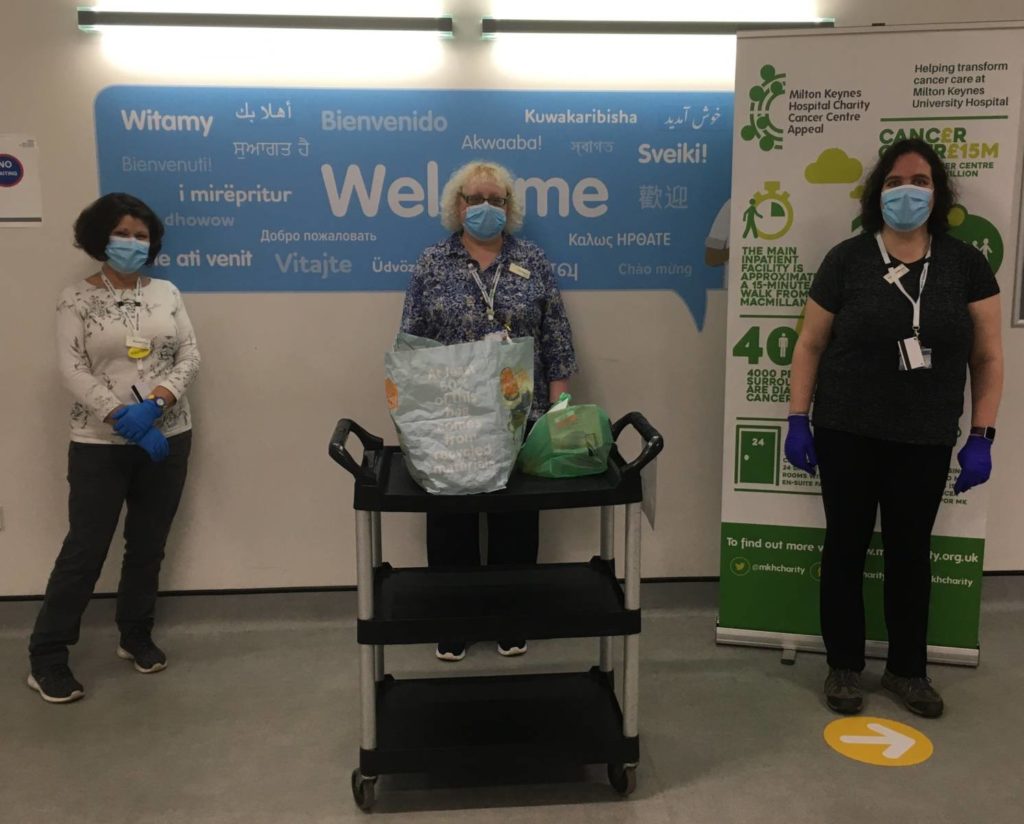 Milton Keynes University Hospital patients have had more than 7,800 bags delivered via the drop-off service launched earlier this year.
With visiting restrictions preventing the vast majority of inpatients and their loved ones from being able to see each other during the pandemic, MKUH's Voluntary Services and Patient Experience teams introduced the Patient Bag Drop-Off Service in April 2020 to enable patients to receive personal items such as reading glasses, clothes, toiletries, books, magazines, sealed refreshments and small gifts from their loved ones who would normally bring in these items to them.
Since 1 April, the team of 16 volunteers have delivered 7,801 bags to patients – almost 1,000 a month – providing a vital service to patients and their loved ones.
One of the bag drop-off volunteers, Evanne Al-Mosawi, said: "I feel like we are helping people who really need help and it's all part of being one big team here at #TeamMKUH. I feel we're making a big difference to patients and their loved ones.
Another of the volunteers, Maureen Pugh, said: "As a patient, you take it for granted that you can have your personal items with you. This pandemic challenged that assumption. This service is vital to all patients. And it also helps me to get my steps up and give me a decent workout."
Voluntary Services Manager Sarah Woodfield said: "Our volunteers are a truly admirable and humble group of people who do whatever they can to improve the experience of patients here at MKUH. Without their help, the Trust would not be able to provide the same level of patient experience to patients. The sheer dedication and contribution – such as their efforts with the Patient Bag Drop-Off service – are evidence of that. Our staff and patients are grateful for everything they do."
The Patient Bag Drop-Off service is provided between 1000-1700hrs, seven days a week. If you have a loved one in hospital and wish to provide them with some small belongings, please deliver these in a plastic carrier bag to the Main Reception between 1000-1700hrs. Bags should not be left outside of these hours as we cannot guarantee the security of the belongings. We also request that you do not send in 'overnight' bags or holdalls as the wards do not have the room to store such large items.
The Patient Experience and Voluntary Services teams work collaboratively with various teams including Complaints and PALS, Security and Outpatient Receptionists to ensure the smooth running of the service. Whilst our existing and longstanding MKUH volunteers have been unable to volunteer in their normal roles, a small number have been redeployed in joining the rota in delivering these items to the various wards.
Please refrain from bringing in perishable foods, as we cannot guarantee these will be delivered in a safe timeframe.
Last Modified: 12:23pm 04/12/2020
For all media enquiries please contact [email protected]