MKUH launches nomination window for Staff Awards
Our staff awards are a fantastic way to recognise and celebrate staff achievements from across the Trust. From the amazing work going on in one department to improve patient care to the individual who consistently goes above and beyond, the staff awards are an opportunity for all staff and departments to be recognised. Each year the number of nominations has continued to increase, demonstrating the value of the awards.
We sat down with some of the winners from last year to find out what winning meant to them…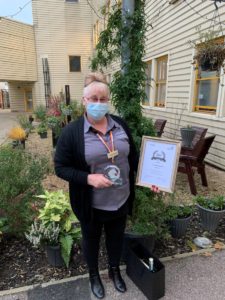 Gaynor Hancock, Receptionist in the Cardiology Department – Winner in the Fundraiser of the Year Category
How did it feel to be nominated in your category?
I was overwhelmed when I found out I had been Nominated and quite emotional when I was told I had been shortlisted, to know how much  you are appreciated and to know you make a difference to others make it all worthwhile.
What did it feel like to win?
I was shocked when they announced I had won, but so pleased and excited, that shocked I didn't know what to say but again it makes all worth it to know so many people enjoy what I have done and makes use of the Garden  all year round.
Amanda Whitehouse, End of Life and Palliative Care Practice Educator – Winner of the Chair's Award for Excellence
How did it feel to be nominated in your category?
When i was told I had been nominated, i wondered why and more so, how? I have been in my current post for 2 months and not sure I had made that much of an Impact just yet. When I realised it was for End of life and caring for the dying, I felt very proud and privileged to be nominated, that EOL care is being recognised as something to talk about and worthy of possibly being on a podium to shout about EOL care a bit more!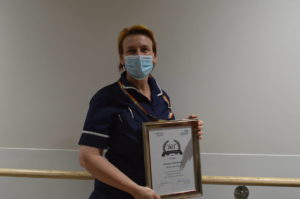 I also felt sad, the last time I was nominated I was able to share the event with my team members, however thanks to Covid, this wasn't going to happen and therefore build up was less so, the previous efforts to find the most sparkly out rageous outfit was lost to squeezing every last minute out in the cancer centre before the mad dash home for 6.
To be honest, I genuinely didn't think i was going to win, I have no idea how the nominations are discussed and decided, and Winner chosen ( i would love to know/be part of future awards!)  although my whole world is palliative and end of life care, i recognise that not every share this and for many don't want to hear about it or even talk about dying.  
What did it feel like to win?
I'm not going to lie…. it felt great!! not for me, but for EOL care. The recognition that its important, not scary to talk about and actually really exciting . My two sons were present, predominately my youngest who was focused on seeing his own face in the audience and waving a broom about (thought he might get a head start on the Saturday chores!) this was the bonus bit about being on zoom, having my two kids watching and hearing my name announced, 'by the big boss'!
When they heard that I was a winner, shared with the amazing Jane Adderley, Freddie jumped up and down and I got hit in the head with the broom…!
Now, post prosecco and hamper goodies,  I feel that i have a stronger voice within end-of-life care and that because of the recognition with this award this has motivated me further in my practice education role to really get people engaged with caring for the dying person,  I have planned a comprehensive palliative and cancer education program for 2022, knowing that the hospital is supporting me all the way to getting people  beginning to be more comfortable with talking and caring for the dying person.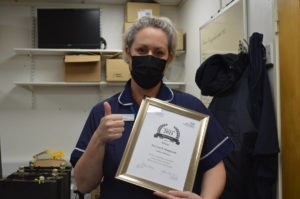 Fay Grech-Marguerat, Macmillan Wellbeing Advanced Nurse Practitioner – Winner of the Patients' Choice Awards
How did it feel to be nominated in your category?
I felt very honoured to be nominated in my category. Partly because the votes came from patients alone, which is mind blowing when you think about what they are going through and that they still took the time to nominate me. But also because of my amazing colleagues who were also nominated for the patient choice award. I felt honoured to be in the same category as them.
What did it feel like to win?
To be honest, I honestly didn't expect to win. I hadn't even looked to see who else was in my category. I felt quite unworthy and very humbled, especially because I won with ITU. They have been on the coal face of covid and deserve every ounce of praise for their resilience and incredible care. But I also very proud because I represent a much wider team in cancer and palliative care services, who work tirelessly to enhance the patient experience in cancer care.
If you would like to nominate a member of staff for a Staff Awards, please click here.
Last Modified: 11:27am 28/02/2022
For all media enquiries please contact [email protected]