Meaningful activities boxes launched across inpatient wards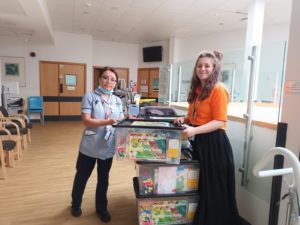 MK Hospital Charity have funded a communications boxes initiative on wards. The boxes, distributed by our charity-funded Meaningful Activites Coordinator Helen Snaith, are filled with all kinds of interesting items to offer patients a creative outlet during their stay with us.
Lisa Barnes, MKUH Patient Experience Lead, says; "The boxes contain items to provide stimulating activities for patients whilst on the ward, which can help to reduce deconditioning, promote wellbeing, mental health and positive patient experience.
The boxes allow staff and patients to have easy access to these activities, communication aids, and relaxation techniques. The boxes also have a QR code on them which allows staff to directly 'order' anything they may need to fill up the boxes or if patients request anything different."
Last Modified: 1:10pm 26/05/2023
For all media enquiries please contact [email protected]