International Nurses' Day – Student nurses on the frontline
Twelve months ago, when the World Health Organisation announced 2020 as being the first ever global Year of the Nurse and the Midwife, nobody could have predicted how much the world would come to depend on those whose roles make up the largest portion of the NHS workforce.
Nurses and midwives bring diverse skills, commitment and expert clinical care and make huge impacts on the lives of so many and since the pandemic outbreak tens of thousands of COVID-19 patients in hospitals across the country have seen first-hand just what highly skilled, caring and compassionate professionals they are.
This is why on International Nurses' Day – on Tuesday 12 May – we all take the opportunity to say thank you to all nurses and midwives; to showcase their diverse talents and expertise; and to promote nursing and midwifery as careers with a great deal to offer.
Many of those amazing careers are just beginning now at MKUH, with 43 nursing students this week joining the 14 who are already on the frontline of the COVID-19 effort. Many of the student nurses who have joined would not normally be on placement yet – they would usually be completing academic studies before undertaking a shorter placement later in the year.
One of those student nurses who opted to join the COVID-19 Clinical Extended Placement is Criselda Cuthbert, 39, for whom being a nurse is a dream job.
As a single parent, Criselda's life became even more hectic when lockdown came into force. She is currently sleeping on the couch downstairs, keeping herself apart from her children to help them feel safe.
Criselda said: "I don't see my children often or even hug them compared to before as they are scared. Also, I can't spend time with sister and give my little nephew a cuddle as they know I work in a high-risk area in the hospital and fear that I may have the virus and may just be asymptomatic, which I totally understand. We think about safety and how we can protect our families.
"Working on the frontline is challenging. I am still a human being who feels concerned and anxious about the unknown, but I am here for the patients as they need someone to look after and care for them, not just with the current COVID-19 situation but at all times.
"MKUH has provided brilliant support and reassurance for us as students. For instance, the study days which are tailored to us students help us to be prepared and equipped so that we can use that training when we are out on placement. Also, MKUH has provided staff and well-being support which is a big help to us as students."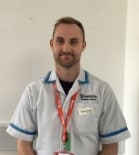 Fellow student nurse Steven Simmons, 25, finds home life can be just as challenging as life on the wards.
Steven said: "I really enjoy working for the Trust. It feels like everyone has really pulled together to deliver excellent care in challenging times. Juggling academic work with the demands of the job can be very difficult, though.
"Being a single dad, life can be very challenging at times. I also have two elderly parents who have had COVID-19 at home which has presented its own challenges."
Maryam Nwaogu, 28, is also a student nurse starting her career at MKUH. She said: "I am really enjoying working here, the community spirit is amazing! The area I am working in is made up of a great team who are very supportive and helpful."
The Trust supports student nurses across the adult, children's and learning disability fields. Each student has a protected learning day that includes clinical, leadership and management skills which is facilitated by the practice education team along with specialist nurses and ANPs across the hospital.
Sam Donohue, Deputy Chief Nurse at MKUH, said: "I'm full of admiration for our student nurses and the way they are helping to provide vital care and compassion whilst having to deal with some really challenging circumstances in their home lives.
"We know how incredibly important it is that we take excellent care of our student nurses during this pandemic – and that goes for all of our staff – and we will provide them with all of the support they need and ask for as they begin their promising careers.
"These students will be this country's future nursing and midwifery workforce; our role is to continue to support them through their academic journey. We also want to reassure students who have paused their studies that we will treat them with the same level of support when they return to their programmes later in the year."
Last Modified: 8:58am 12/05/2020
For all media enquiries please contact [email protected]