Cancer Patient Experience Survey – Feedback Wanted
The National Cancer Patient Experience Survey is asking for your feedback.
Feedback from people who have experienced cancer care and treatment is a vital part of improving services. It helps to identify what's working well and what needs to be improved, making things better for everyone.
Every year, NHS England runs a large survey, inviting a sample of people who have had cancer treatment in hospital to take part. This is called the National Cancer Patient Experience Survey.
This year's survey seeks views on the experiences of care of more than 100,000 NHS patients who have had treatment as an inpatient or as a day case in an acute or specialist NHS Trust Hospital from April to June 2019 after a primary diagnoses of cancer.
What questions are included in the survey?
Questions include how and when the cancer was diagnosed, how involved the patient felt in decisions about their care and treatment and how much information was given. There will also be questions about how the patient was treated and the level of support they were given by other NHS or social services.
How do I complete the Cancer Patient Experience Survey?
If you receive an invitation to complete the survey, you will have three months to respond. The questionnaire is sent out to the sample participants or can be completed online. There is also a free helpline for patients who want to complete the survey over the phone. A translator can be provided if people would like one.
People can also as a friend or family member to help them complete the form as long as the responses are about the patient's care.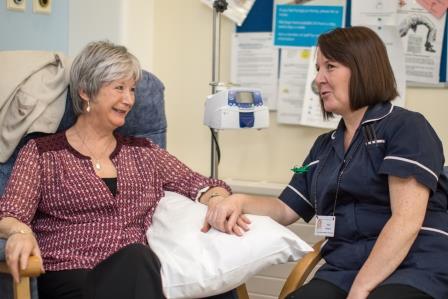 The findings of the survey allow healthcare providers and commissioners to see how they are doing and where they need to make improvements. For more information, visit: www.ncpes.co.uk/
Not all people who have had cancer treatment will be invited to take part in this survey, but there are other ways you can give feedback on your experience of care.