Surgical team celebrate 400th robotic case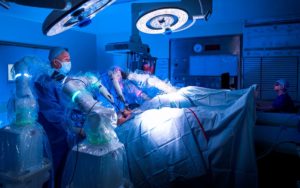 Last month, Milton Keynes University Hospital (MKUH) celebrated the successful completion of the 400th case using the CMR Versius Surgical Robotic System. The robot, which was first introduced in November 2019, has made a significant difference to both staff and patients at the hospital, upskilling teams as well as enabling patients to go home sooner.
Before Christmas, the surgical team completed their 428th case. The robot is now used across a range of procedures including colorectal, gynaecology, general surgery, upper GI surgery and urology. As well as individual cases, the robot is used for combined cases between colorectal and gynaecology.
With Versius, MKUH has been able to develop a multi-speciality robotic programme for abdominal surgery, across a range of benign, complex benign, and cancer procedures, including the world's first abdominal wall reconstruction using the robot.
Barrie Keeler, Consultant Colorectal Surgeon at MKUH, said: "The introduction of the Versius Surgical Robotic System has gone from strength to strength over the last three years and has been proven to make a demonstrable positive impact to both patient outcomes and the experience that patients receive.
"We are hugely excited about the future opportunities available to further enhance and transform the way we see and treat patients and will continue to work closely with the team at CMR to develop the service."
A huge congratulations to the colorectal, gynaecology, and general surgical teams, the wider teams involved in the programme, as well as the CMR implementation team for reaching this incredible milestone.