Supporting Paediatric Patients with Learning Disabilities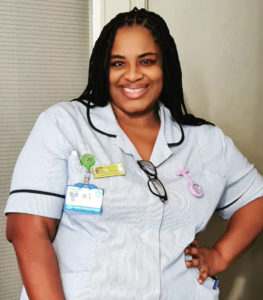 When her eldest daughter was diagnosed with autism, Nicola Dryden immediately knew what area of nursing she wanted to specialise in. Now, a few years later, she is a Learning Disabilities nurse on our paediatric wards.
Nicola was determined to follow her dreams. She joined MKUH as a volunteer in Maternity in 2010 before moving into positions in catering and then the hospital switchboard. She then worked part-time in oral surgery before taking an access course at Milton Keynes College. A brief stint at Stoke Mandeville intervened before she returned to the Trust as a Maternity Care Assistant.
"Originally I wanted to do midwifery, but then my daughter Kyarah was diagnosed with autism, and I started to learn more about the condition," explains Nicola, who learned sign language so she could communicate better with her little girl. "It was then I realised that learning disability nursing was the right career path for me."
She qualified at Northampton University and chose paediatric rather than adult nursing. She is now a key member of the team on Ward 5 where her patience and relationship-building skills complement her nursing expertise.
"I always talk to the parents, spending time with them to find out all the vital information about what their child needs. This is, of course, important for all children, but when you have a child with a learning disability it can make such a difference to their experience in hospital," says Nicola. "My role in paediatrics is to provide quality care for children, parents, and our staff. I work closely with the play specialists so that we can find activities that help reduce children's anxiety and find ways of ensuring our younger patients are supported at all times.
"Having a child in hospital is always worrying for parents but if your child has additional needs, it can be even more so. I do everything possible to minimise any worries and support parents while their child is in our care. My daughter's own learning disabilities have taught me so much and I am able to really empathise with others as a result. It is a great role and Paediatrics is a wonderful place to work."