Record number of MK home births for one month
Milton Keynes University Hospital recorded its highest ever number of home births for a single month as the pandemic reached its peak.
The Home Births Team facilitated the births of 14 babies at home in April (a typical month sees between around eight-ten home births). And in recent months, the team have received more referrals than normal, too.
Laura Chaplin leads the team, which was launched four years ago and has grown to six midwives and a maternity support worker.
Laura said: "We have seen an increase in interest from women as they would prefer to avoid coming to the hospital if it's not necessary. We have supported many home births since the pandemic outbreak and it's been a big relief for women not to need to go anywhere. Families are very grateful we still have a home birth service running."
Zoom sessions were introduced by the team in April to replace the face-to-face meetings in order to manage the increased caseload.
Laura said: "We run monthly events – currently on Zoom – so expectant mothers can have a chat with the team, meet the midwives before they visit them and ask any questions.
"But when it comes to visits, we are always discussing measures to keep everyone safe and we are wearing PPE for all visits.
"Evidence shows that being at home helps labour progress naturally, there is less need for pain relief or intervention and overall it is a much nicer experience for mum and partners. It's just as safe for low-risk pregnancies to be at home as in hospital. They get continuity and home visits in pregnancy and we then provide all postnatal care too."
Helen Colby-Major, from Milton Keynes, was one of the mothers who gave birth at home during that record month of April.
She said the pandemic served only to reinforce her initial desire to have a home birth due to the uncertainty surrounding COVID-19.
Helen said: "A home birth was something I wanted to do before the outbreak. For me, it's the most natural way. I was actually concerned that MKUH's home birth service might be suspended and that I would have no choice but to give birth in hospital but, thankfully, the service is still running.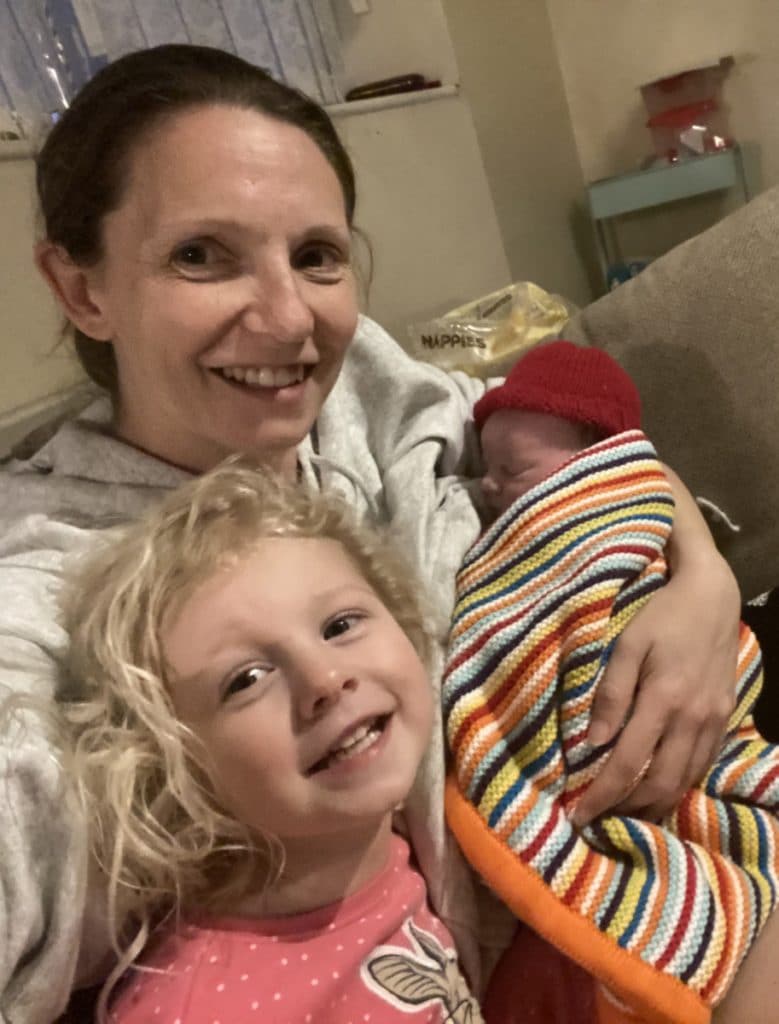 "Having previously had one home birth which went very well, home birth was my preferred option second time around too and the outbreak actually made me even more convinced I should do the same thing. I think that with home births generally, for me, I would feel much more in control of the situation than I would in hospital, and this would make the while experience much less stressful, and that was how it turned out on both occasions.
"We are so lucky to have a home birth service that is still running here in MK and that they're a fantastic team. My wishes have always been respected every step of the way and, during both births, I've felt we've been a real team."
Whilst home births are safe, referrals are always subject to certain criteria and must be approved in order for a home birth to take place and, even then, the mother may still require a transfer to hospital.
Laura said: "Of course, any birth can be unpredictable so we cannot always guarantee to remain at home throughout, but we are prepared for emergency situations and have lots of equipment if needed. National research shows that first time mums have 45% chance of transfer to hospital from home, which reduces significantly for future pregnancies to around 11%. We discuss all birth plans beforehand and advise what to prepare. And we put all rubbish in black sacks and remove all clinical waste when leaving."
Referrals for home births can be made at any stage of pregnancy and self-referrals can be made online via the MKUH website.
For more information, visit the MKUH Facebook page which features reviews and birth stories from previous home births.
Or you can visit the Home Birth page on the MKUH website.
The PDF version of the leaflet is found on the website and all women get a printed leaflet in their booking packs.
https://www.mkuh.nhs.uk/patient-information-leaflet/home-birth-at-mkuh
Last Modified: 11:16am 21/09/2020
For all media enquiries please contact [email protected]