MKUH Introduces New Patient Experience Trolley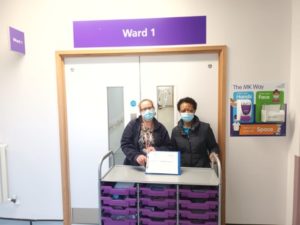 This week saw the introduction of a new patient experience trolley. Made possible by donations to Milton Keynes Hospital Charity, Buddy the Trolley had its first outing, wheeled around Wards 1 and 14 by Patient Experience Co-ordinator Sharon White and our new volunteer (pictured).
The trolley was very well received by both staff and patients, containing items to make our patients' stay as comfortable as possible, including toiletries, arts and crafts and other activities, patient and visitor information, and even greetings cards so patients can send well wishes to loved ones whilst in hospital.
The trolley gives the Patient and Family Engagement Team an opportunity to spend time with and chat to patients, collecting vital feedback to ensure we provide the best possible care.
Julie Goodman, Head of Patient and Family Experience, said: "I was very proud to see this project come to fruition this week. 'Buddy' has been developed with the help of feedback from our patients, their families, and staff and contains a wide range of activities, information and products aimed at enhancing the experience of our patients.
In the coming weeks and months our aim, with the help of our volunteers, is to ensure that Buddy makes an appearance on the wards every day, Monday to Friday, allowing us to help as many patients as possible."
Last Modified: 1:41pm 01/03/2023
For all media enquiries please contact [email protected]