MKUH ED doctor tells Health Secretary about his COVID experience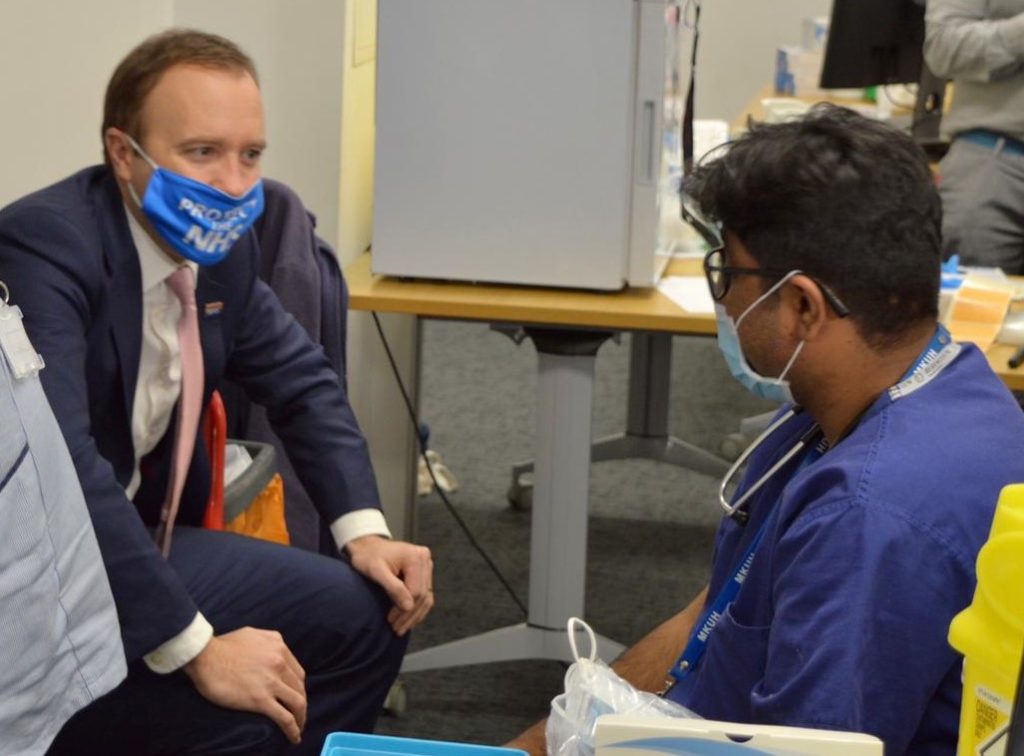 A Milton Keynes University Hospital Emergency Department doctor who received his COVID vaccination spoke with Health Secretary Matt Hancock about his experience of treating COVID patients and his views on the challenges presented by the vaccination roll-out.
As Dr Muhammad Hassan (pictured above with Mr Hancock) received his COVID jab at the hospital's Academic Centre on the first day of the vaccinations roll-out on 8 December, the Health Secretary – who was visiting MKUH that day – asked him about his Emergency Department role and his experience of working in COVID, which has involved volunteering to treat hundreds suffering from the disease.
Muhammad said: "I had a brief conversation with the Health Secretary and I told him that, in March when the pandemic started, I treated COVID patients and I even caught COVID myself as well.
"We went to an emergency medical rota in the second week of March and from the very first day of going on the emergency medical schedule, I was seeing COVID patients every day.
"This is an unpredictable disease and nobody knows what course will it take. For some people, it just feels like a flu but, for others, it's the worst illness they ever had.
"I caught COVID in the last week of March and my symptoms were mild, lasting for about ten days, although my sense of smell only returned after nearly two months. Since recovering, I have worked in a confirmed COVID patient ward, including through the first peak."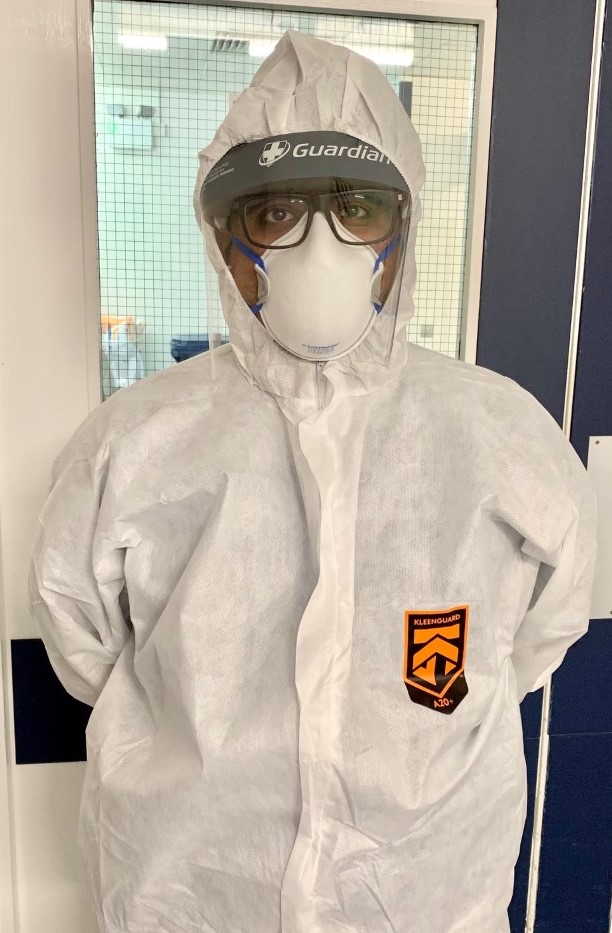 Muhammad was extremely grateful to be offered the opportunity to receive the COVID vaccination.
He said: "I feel absolutely privileged that I was given the opportunity to receive the COVID vaccine. It is painless and I personally am not experiencing any post-vaccine symptoms. It is really important to have the COVID vaccine to protect yourself and your loved ones from this contagious and deadly disease.
"I have also made some COVID videos for people and doctors in Pakistan, to share my first-hand experience and raise awareness of the disease. We should play our part in creating awareness among people about how important it is to have the vaccine."
Following his visit, Mr Hancock said: "In Milton Keynes, it was great to meet some of the patients and the staff involved in the roll-out.
"I felt so proud when I sat with Muhammad Hassan. I sat with him while he got his jab. He said the jab was painless. But we also talked about the challenges that we still face right now while we roll-out the jab across the country.
"It's free according to need – and it's the very best way to protect you and to protect those around you. And when enough people get vaccinated – and we see those hospitalisations coming down – we can then start lifting those restrictions which have made this year so tough."
MKUH is inviting all local people who are aged 80 years and over to receive a COVID-19 vaccination at the Academic Centre.
If you are 80 years old or more, please call us on 01908 997878 between 0800-1700hrs Monday to Friday to book your vaccination.
For more information on eligibility criteria and booking a vaccination appointment, please click here.
Last Modified: 9:41am 15/12/2020
For all media enquiries please contact [email protected]