MKUH celebrates one year of nursing associates!
Milton Keynes University Hospital has celebrated the first anniversary since nursing associates were introduced by hosting a visit from a national healthcare leader.
The chief executive of the Nursing Midwifery Council (NMC), Andrea Sutcliffe CBE, came to Milton Keynes on Friday (24/1) to meet nursing associates in the Emergency Department, Ward 18 and have a roundtable discussion with nurses, midwives, trainee nursing associates and student nurses in the Academic Centre.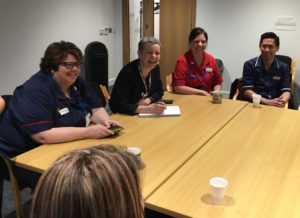 Nursing associates work with people of all ages and in a variety of settings in health and social care, supporting registered nurses and freeing them up to focus on more complex clinical care. MKUH employs six registered nursing associates. A further 13 trainees are currently in their second year.
Nursing associate Danielle Knight, who started at MKUH as a porter eight years ago, now works in the Emergency Department. She said her proudest moment was graduating from the nursing associate course.
Danielle said: "I never thought I'd get to this point and getting to see the faces of my two children when I graduated was so special. My daughter now says she wants to become a nurse when she grows up!"
Fakhra Azim started as a healthcare assistant and now works as a nursing associate on Ward 18 at MKUH providing medical care for people living with dementia. Speaking of the impact the experience of becoming a nursing associate has had on her, Fakhra said: "I'm a completely different person: it has totally changed me."
Nicky Burns-Muir, Chief Nurse and Director of Patient Care, said: "We were delighted to host a visit from Andrea Sutcliffe CBE, the Chief Executive of the Nursing Midwifery Council (NMC), in celebration of the first anniversary since nursing associates were introduced.
"Nursing associates are crucial to delivering excellent treatment and care to patients, and Andrea was thrilled to see them so passionate about caring for patients and the way they work with the rest of the nursing team. I am very proud of all of our nursing associates and I am excited to look forward to seeing many more come through their training to take up roles here at MKUH over the coming years."
Andrea said: "It's great to see how far we've come in only a year of this new professional role joining our register. During my visit to Milton Keynes University Hospital, I was delighted to meet nursing associates and hear about the positive difference they are making for the people they support. It was also lovely to hear from their colleagues who clearly value their contribution to the wider nursing team.
"I'm always encouraged by the enthusiasm and pride nursing associates show about their role – they have such an important part to play as we develop a modern, progressive nursing team to meet the increasing needs of people using health and social care services. I look forward to seeing this role continue to grow in the years ahead."
Sister Alex Stock said: "I find that nursing associates are hard-working, dedicated and hold a positive outlook. They are role models for those people who look towards a career in nursing. I first met nursing associates when they were students on the ward. They were eager to learn and had a good foundation of clinical knowledge due to previous experience as a healthcare assistant. It was a privilege to welcome the first newly qualified nursing associates to our team in Ward 18, a medical ward.
"We overcame some initial challenges by restructuring and improving the way we work as a team and this has brought huge benefits to patient care through the variety of experiences which nursing associates take in and opportunities that arise."
If you are interested in becoming a nursing associate then please contact Louisa Latty [email protected]
Last Modified: 8:29am 28/01/2020
For all media enquiries please contact [email protected]