Midwife Inspired Career Change for MKUH Staff Nurse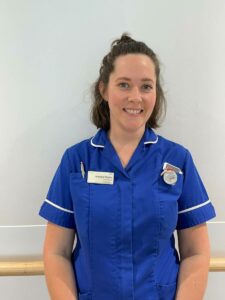 Jessica Peters had a busy family life and a job in school administration with no plans to change careers – until she met the midwife who delivered her second child.
She didn't have a great birth experience when her first son was born, so when she got pregnant with Jacob, now 7, she decided to opt for a home birth.
"During my pregnancy, Anna-Marie, my community midwife at the time was amazing. Nothing was too much for her, she addressed all my worries and concerns and was with me and my husband when I gave birth. The whole experience was absolutely wonderful, and it made me realise what a difference one person could make in a situation like that.
"My midwife was the very reason I put myself through college and university and am now a staff nurse. Incredible people can create such powerful moments – she did for me and now I'm doing that for my patients."
Having two small children to care for didn't deter Jessica from her career change. She enrolled at college in September 2016 and applied for university courses in both midwifery and nursing, before deciding to opt for the nursing route. She qualified in 2020, receiving a distinction for her dissertation.
She bumped into midwife Anna-Marie a year after graduation.
"I was in the corridor in my uniform and saw Anna-Marie coming the other way – I told her she was my inspiration for training as a nurse, and she was amazed," says Jessica, who is currently on secondment as a band 6 nurse on Ward 25, caring for cancer patients.
"I absolutely love my job. I love the interaction with patients and the knowledge that caring for them hopefully makes their lives a little more bearable at what is a very difficult time for them and their families," she adds.
Last Modified: 9:53am 03/08/2023
For all media enquiries please contact [email protected]