HIV Testing Week 2023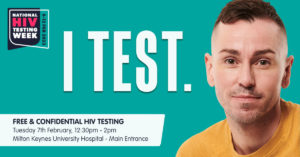 This week (6th – 12th February) marks National HIV Testing Week, a campaign to promote regular testing among the most-affected population groups in England.
Regular testing helps to reduce the number of people living with undiagnosed HIV and those diagnosed late.
The MKUH HIV Service will be hosting a stand in the main entrance of the hospital on Tuesday 7th February, 10am – 2pm.
Free, confidential 60-second HIV testing will be provided by Terrance Higgins Trust (12:30pm – 2pm) and the team will be on hand to answer questions and share useful information.