Hidden Stars: Tina Susikow, Point of Care Testing Associate Practitioner, Pathology for Rheumatology
Tina's small team has been significantly reduced over the last month and Tina has stepped up, stayed late and come in over the weekends and bank holidays to help ensure that the Point of Care equipment is available when the clinical teams need it to be and therefore providing information at the point of patient care.
Tina has remained professional, has kept a smile on her face (even underneath PPE) and has shown the best of attitudes when moving gas machines to newly created locations, providing training and supporting users with their barcode queries.
Well done Tina, a hidden and shining star!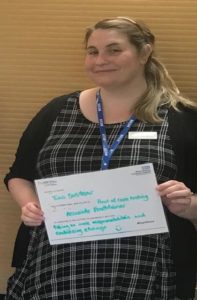 Last Modified: 11:26am 30/04/2020
For all media enquiries please contact [email protected]