ED side room developed to cater to palliative patients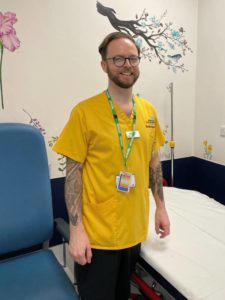 A room in the Emergency Department (ED) of Milton Keynes University Hospital (MKUH) has been given a thoughtful makeover so that palliative patients have peaceful surroundings as they approach end of life. The idea was to give one of the side rooms in the department a more homely feel with the use of subdued lighting and vinyls to relieve the plain white walls.
The makeover was the brainchild of nursing associate Lee Pockett, who works in ED.
'Sadly, we do get palliative and oncology patients who come into ED at end of life and I thought it would be lovely for them and their relatives to have a more peaceful atmosphere rather than a very plain hospital room,' explains Lee, who sourced the vinyls himself. 'I did placements on both the Macmillan unit and Ward 25 and recognise how important these seemingly small changes make to our patients.'
When the room is not needed for this purpose, it reverts to a standard side room for non-palliative patients with standard lighting.
Last Modified: 1:53pm 11/05/2023
For all media enquiries please contact [email protected]