Apprentice of the Year Award 2021
This week is National Apprenticeship Week. This annual week-long celebration of apprenticeships, taking place across England, will showcase how apprenticeships have helped employers and people of all ages and backgrounds. Apprentices, at all stages of their learning will also be celebrated over the course of National Apprenticeship Week 2021.
For National Apprenticeship Week 2021, the Apprenticeship Manager at MKUH, Hannah Barnett has chosen a winner, a runner up and a highly commended apprentice for our Apprentice of the Year Awards 2020.
Winner – Cara Crotty, Communications Apprentice
The Apprenticeship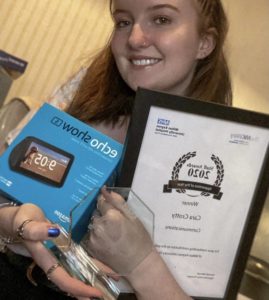 Manager Hannah received several nominations for Cara, including some of the following positive comments that were written onto her nomination forms:
Cara produces outstanding work each and every day and works extremely well collaborating with other departments across the Trust, receiving praise and excellent feedback constantly.
Her work ethic is impeccable
Cara is truly a rising star
She has gone above and beyond to support her team and has been responsible for some excellent work in her own right, including bringing together the first virtual event in the tent and many other smaller online events and information videos.
Cara is a great role model for young people
Cara said: 'I am so thankful to be MKUH's apprentice of the year! My apprenticeship has benefited me in so many ways – it has given me a fantastic experience in the working world and gave me a real chance
to put my skills into practice and develop myself as a person both professionally and personally. My team are so supportive and have really helped me over the course of my apprenticeship; helping me to progress in my role, but also to gain more confidence and life skills. Upon the completion of my apprenticeship, I would love to get a substantive role in Communications at MKUH. Thank you!'
Runner Up – Annabelle Dempsey, Assistant Tech Officer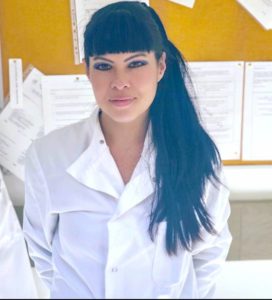 Annabelle said: 'I feel very privileged to have been nominated by my team and chosen as winner of this award. It is lovely to feel valued and is very much appreciated. This has given me even more motivation to give my all to succeed in my studies over the duration of this Apprenticeship.I would especially like to thank the Pathology Management for giving me the opportunity to become an Apprentice along with their continued support. I am also very fortunate to work with such an inspiring, encouraging and supportive team. Thank you Biochemistry!This Apprenticeship has given me the chance for personal growth and to further expand on my knowledge and skills. I have already learnt so much!. I hope to successfully gain the relevant qualifications to become a Biomedical Scientist in the future so I can continue showing my dedication, support and commitment to MKUH Pathology and the NHS essentially, so I can contribute in being part of the process of providing a service which ensures the best Patient care possible.'
Highly Commended – James Cooney, Nursing Associate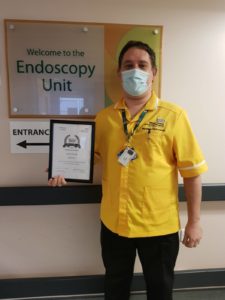 Hannah received a wonderful nomination for James, and one of the positive comments that were written onto his nomination form is: 'James is a great member of staff , a strong team player and will always support others in their development'.
James said: 'Being nominated for the apprentice of the year award 2020 is a massive honour and privilege especially as you are nominated for by your peers I am delighted to have been awarded 3rd place highly commended , this honour means a great deal to me as it was not easy working through the pandemic and keeping to schedules for assignments . Being honoured in this way makes all the hard work i put in to complete my nursing associate degree worth it.I am very proud to have trained and qualified at MKUH and to have been part of the 2018 cohort of nursing associates.As for the future now i am qualified , i want to settle into the role of a registered nursing associate and in the not-too-distant future look at my options for topping up my degree to become a registered nurse via the trust apprenticeship route.my department has benefited from me qualifying as they are gaining another registered member of staff , and as the first associate nurse to be working in endoscopy i will become mentor to any future nursing associate apprentices and pass on my skills learnt to nurture and encourage them.'
Last Modified: 11:04am 04/02/2021
For all media enquiries please contact [email protected]