Green Plan
In October 2020, NHS England announced their ambition to become the world's first net zero national health service, setting the following two targets:
For the emissions we control directly (the NHS Carbon Footprint), we will reach net zero by 2040, with an ambition to reach an 80% reduction by 2028 to 2032;
For the emissions we can influence (our NHS Carbon Footprint Plus), we will reach net zero by 2045, with an ambition to reach an 80% reduction by 2036 to 2039.
At MKUH, we are on a journey to meeting this ambition, setting ourselves the target of becoming net carbon zero by the end of the decade (2030).
What does net carbon zero mean?
Net zero means achieving a balance between the greenhouse gases put into the atmosphere and those taken out. To achieve this aim requires us to balance the amount of greenhouse gases we emit with the amount we remove. When what we add is no more than what we take away we reach net zero. This state is also referred to as carbon neutral.
What are we doing at MKUH?
The NHS is loved by so many of us and we know that to ensure future generations get to experience the same affection and benefit from the unrivalled clinical care, we need to start thinking and acting more sustainably.
We have already started our journey to becoming greener and there is some fantastic work going on across all areas of the Trust to improve our environmental footprint and encourage more sustainable ways of working. However we know that this is only the beginning and there is so much more than we can do to be a leader in championing and influencing environmental change.
Our Green Plan – more than just reducing our emissions
We are in the process of developing our Green Plan, outlining our vision and strategy for how we will achieve our ambition of becoming net carbon zero.
Our Green Plan at MKUH extends beyond simply reducing our carbon emissions. With our central role in the heart of the Milton Keynes community, and being one of the largest employers in the area, it is our responsibility to lead by example and show others what is possible.
As such, our Green Plan will encompass our impact on the local community, from an environmental, societal and financial point of view. This includes everything from the staff we employee, how we work with schools and others educational partners and the way in which we conduct ourselves.
We've identified the following nine areas as our areas of focus for the next few years: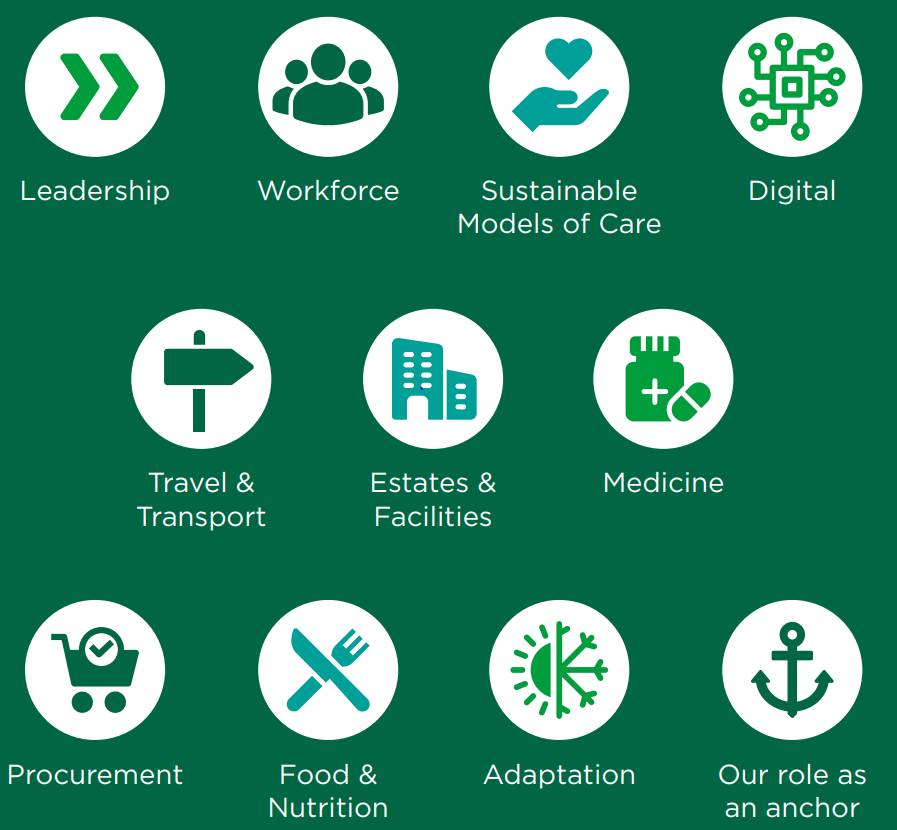 Each of these nine areas will be assessed across the following four themes:
1. Net Carbon Zero
Reducing our carbon emissions across all our direct activities, including working with our supply chain to partner with suppliers who share similar ambitions.
2. Biodiversity
Increasing access to green spaces across our site and identifying ways that we can encourage greater biodiversity.
3. Wellness
Identifying ways to better support the health and wellbeing of #TeamMKUH, providing inclusive access to a suite of initiatives that can improve the physical and mental wellbeing of colleagues.
4. Sustainable use of resources
Making sure we effectively and efficiently make use of the resources that we have, from the funding we are provided with to how we prescribe medication.
To enable us to achieve our vision, we will be working closely with our staff, patients, suppliers and members of the public. Find out more about some of the work that is already underway by clicking on the links below.
Last Modified: 11:58am 16/09/2022