Pharmacy at MKUH
The Pharmacy team at MKUH provide a full range of pharmaceutical services, seven days a week to support the safe and effective use of medicines across the Trust.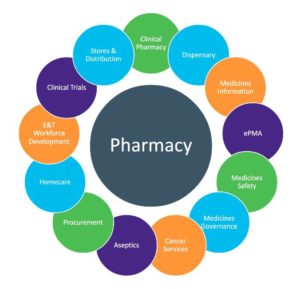 With a headcount of over 100, staffing is made up of Pharmacists, Pharmacy Technicians, Pharmacy Assistants and Support Staff.  In addition, the department supports three Pre-Registration Pharmacists and four Pre-registration Pharmacy Technicians each year.
In an average month MKUH Pharmacy:
Raises 5,000 order lines
Reviews 7,000 drug charts
Answers 35 queries from patients through the helpline
Answers 40 clinical queries from healthcare professionals via medicines information
Answers 12 queries from GPs about discharges or outpatient recommendations
Dispenses 8,300 Inpatient prescriptions
Dispenses 5,600 Discharge prescriptions
Dispenses 900 injectable chemotherapy items
Issues 8,800 stock items to wards
Raises in excess of 1,000 clinical interventions to correct medicines prescribing errors or other patient safety issues around medicines.
Traditional Pharmacy services of supply and ward based clinical pharmacy are the backbone of the department's work and there has been significant investment into the departmental infrastructure to support this in FYs 2019 – 21. A new Aseptic Unit has been built within the new Cancer Centre. This is a full clean room facility which is used to prepare chemotherapy for our cancer patients. There is now the opportunity to develop to provide services to support the wider hospital (for example ready-made injectables) and other organisations (subject to the necessary licensing). The main Pharmacy department has been fully refurbished to include a new robot which has supported a full review and optimisation of the workflow. Finally, a new outpatient Pharmacy is in the main entrance of the hospital. This will enable easy access for patients to obtain medicines prescribed through outpatients and also advice on the use of medicines or management of minor ailments. It can also have a key role in supporting staff health and wellbeing.
The Pharmacy at MKUH has a long history of working collaboratively with our healthcare partners in Milton Keynes.
Pharmacy, and the optimal use of medicines, contributes to all areas of the MKUH Strategy, with high quality care being at the centre of the profession's roles.
Last Modified: 12:23pm 12/08/2022