Pulled Elbow in Children
Please note, this page is printable by selecting the normal print options on your computer.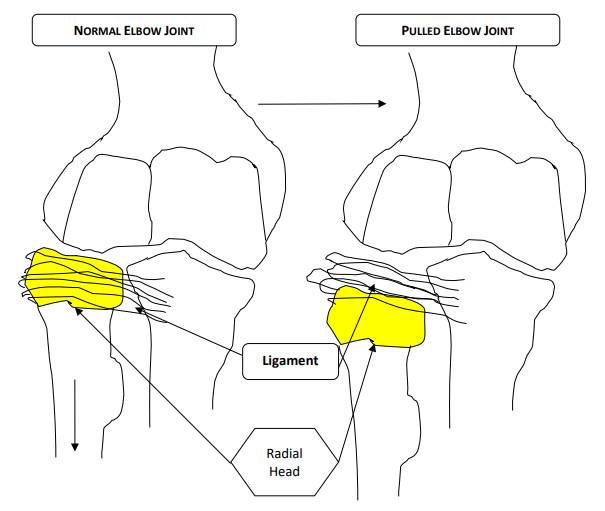 What is a Pulled Elbow?
A pulled elbow is a common condition in young children, generally affecting children under the age of five. It occurs when the radial head has moved slightly out of its ligament. Often when your child's arm is pulled too hard by the hand or wrist, e.g. when your child stumbles whilst holding your hand.
How might my child behave?
• Immediate crying
• Refusing to use affected arm
• Holding arm extended
• Holding arm against the abdomen
• Moving arm at shoulder not at elbow
What is the treatment?
X-ray is not always necessary. The elbow will be clicked back into place by gentle rotation of the arm by the doctor or nurse practitioner. Your child may cry initially but this will quickly settle and your child will start to use the limb. Occasionally the elbow cannot be put back but will often settle itself after a day or two. If this should occur your child will be given an appointment for review in the fracture clinic to monitor their progress. Pain relief such as paracetamol (Calpol) or ibuprofen (Nurofen) syrup may be needed.
How can I prevent this?
• Avoid lifting or pulling your child by the hands, wrist or forearms
• Avoid swinging your child around by their wrists or forearms
If you have any further queries, please contact:
• Emergency Department: 01908 995 913 ext. 2409 between 9am and 10 pm
• Hospital switchboard: 01908 660033 between 10pm and 9am
• NHS 111
• Your GP surgery