Mallet Finger Injury
Please note, this page is printable by selecting the normal print options on your computer.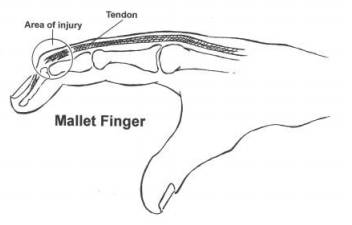 You have damaged the tendon that straightens the top of your finger.It is important for the tendon ends to be kept close together to allow them to join. Tendons have a very poor blood supply and take six to eight weeks to fully heal.
Splint
The splint you have been fitted with needs to be worn CONSTANTLY and, if removed, the tip of the finger should be continuously supported. If you are unsure of how to look after your finger DO NOT REMOVE THE SPLINT – contact the Hand Therapy Unit.
If you have any swelling in your finger, this may go down and the splint may become loose. If this happens, you need to return to the Hand Therapy Unit immediately.
DO NOT REMOVE THE SPLINT
After six weeks of constant splint wear, your hand therapist will advise you of the next stage of treatment. This usually means a further two weeks of wearing the splint at night, along with special exercises to start to get the end of your finger moving again.
If you have any problems, or are worried in any way about your hand, please do not hesitate to contact the department on 01908 994511, or ask your therapist at your next appointment.