Last Modified: 10:40am 04/07/2023
Sarah Crane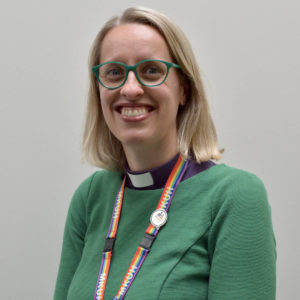 As the National Health Service (NHS) celebrates its 75th birthday on Wednesday 5 July 2023, hospitals across the country are taking time to reflect on the incredible work of their staff. In commemoration of this milestone, we have spoken to members of #TeamMKUH to learn about their experience within the NHS and where they see the future of healthcare.
Find out more about Sarah Crane, Lead Chaplain, below!
When did you start working in the NHS?
I started working for the NHS in the autumn of 2014 – I have been working as a chaplain for the NHS for 9 years.
What inspired you to join the NHS?
Before working in the NHS, I worked as a minister in Baptist church. I was truly passionate about chaplaincy and wanted to challenge myself which led me to work in the local hospice. This in turn inspired me to consider a chaplaincy role, then a good friend recommended working in the hospital, and it has been the most extraordinary experience since then.
What does a day in the life look like for you?
In the morning, my team have a huddle to gather knowledge about the day. I also visit patients, making sure they receive the care they need. I also conduct one-to-ones and check-ups with my team to discuss any problems that may arise. There is no typical day, as working in the NHS is unpredictable, however, the uncertainty is fascinating.
What is your favourite part of working at MKUH?
The dynamic and diverse people I get to work with – I love to see staff that really care about their work. Having conversations with patients and hearing their stories is also a privilege and makes me appreciate working for the NHS.
Do you have any advice for colleagues new to the NHS?
My advice would be for you to take your time. Many people burn out trying to prove themselves and this just leads to guilt. Taking your time is key to success – this job is a marathon not a sprint.
Also get to know the people around you as they can really help you out when you have a dismal day.
Where do you see the NHS in the future?
The future of the NHS is the people. What I see in the people is not defeat, it is encouragement to one another and gratitude, although the future is greater than any of us as individuals. I believe that people who see the care and kindness towards patients as paramount will be the future of the NHS.
Describe the NHS in one word.
Inspiring!