Last Modified: 10:33am 04/07/2023
Evie Doran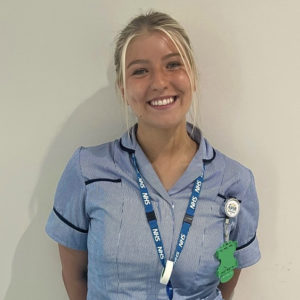 As the National Health Service (NHS) celebrates its 75th birthday on Wednesday 5 July 2023, hospitals across the country are taking time to reflect on the incredible work of their staff. In commemoration of this milestone, we have spoken to members of #TeamMKUH to learn about their experience within the NHS and where they see the future of healthcare.
Find out more about Evie Doran, one of our wonderful Macmillan Nurses, below!
When did you start working for the NHS?
Aside from when I practiced as a student Nurse and had placements (since September 2018), it was officially the 4th of October 2021. A day I will never forget. My first ever day as a qualified Nurse.
I can remember it like it was yesterday; sitting in my car having arrived extremely early and feeling a complete mixture of nerves and excitement.
I came home that day and walked through my front door towards my Mum and Dad, modelling my new lanyard, and glowing about how well my first day went.
I had never felt pride like it. Me! A Nurse! Working for the NHS! An unforgettable day.
What does a day in the life for you look like?
A typical day working as a Haematology Outpatients Nurse begins by greeting my lovely colleagues in the morning. Then, most of my time in this role is spent working alongside and assisting the Consultants in their clinics by prepping the patients ready to be seen at their appointments. The preparation I carry out can entail venepuncture, taking observations and urine analysis as examples. Other times, I can be carrying out cannulation, administering blood transfusions, as well as a variety of other intravenous medications which are part of the treatment plans set out for the patients we care for in the Cancer Centre.
Aside from striving to meet the physical needs of the patient, it is an equally and extremely fundamental part of my role to practice patient care in a holistic and person-centred approach. Therefore, this large part of my role is being an advocate for the patients we care for, supporting their emotional well-being and promoting good mental health.
What is your favourite part of working at MKUH?
It is difficult to pinpoint my favourite part because I admire so many aspects of what makes MKUH as wonderful as it is.
I have two – one of my favourite parts is that there are ample opportunities to continually develop my education and knowledge. For instance, I am currently undertaking my preceptorship course, run by Lilian Soribe; a course which integrates healthcare professionals newly qualified or new to the Trust, from all healthcare backgrounds, and enables us to discuss and learn about interesting healthcare-related topics, all whilst in an open and non-judgemental environment.
Lily is the most amazing person to lead this programme and it is thanks to MKUH facilitating these courses that allow me to meet such inspiring individuals, that play an imperative role in my career.
My other favourite part of working at MKUH is the Greatix system. I cannot praise this system enough. It boosts the morale of those working in the hospital and it embodies everything that I live and practice by myself, which is that it is so important in life to spread kindness and positivity.
Do you have any advice for inexperienced staff?
My first piece of advice would be, please do not be hard on yourself. Experience comes with time. I have been there myself, feeling overwhelmed when I was new. But the most reassuring thing you can remind yourself is you are not alone; every one (and I mean everyone) has been in your position once upon a time.
My second piece of advice is to flip the narrative. As daunting as it can feel at times when you are new to something and feel inexperienced, try to view this time as a positive opportunity to learn and grow. Utilise the knowledge of your team and senior members of staff – ask them questions, be inquisitive, be proactive, shadow their practice – exposure to new knowledge and new skills, that is how you gain experience and remember, a great healthcare professional never stops learning.
Lastly, if you are ever unsure about something, approach someone senior and ask them, because at MKUH, we care, we communicate, we collaborate and we contribute – utilise your team and you will be great!
Where do you see the NHS in the future?
To me, no matter what, the NHS, is the gift that keeps on giving and I hope it carries this legacy onwards into the future, continuing to provide us all with outstanding healthcare, led and organised by the compassionate individuals that work within it.
I would just like to say to celebrate the NHS 75th birthday, thank you to the National Health Service for providing me the opportunity to work the most wonderful and rewarding job, where at Milton Keynes University Hospital, I have the utmost privilege of caring for and working alongside such amazing people every day.
Describe the NHS in one word.
Invaluable