Last Modified: 10:48am 04/07/2023
Adam Baddeley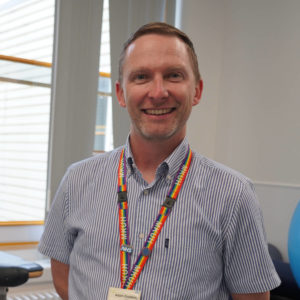 As the National Health Service (NHS) celebrates its 75th birthday on Wednesday 5 July 2023, hospitals across the country are taking time to reflect on the incredible work of their staff. In commemoration of this milestone, we have spoken to members of #TeamMKUH to learn about their experience within the NHS and where they see the future of healthcare.
Find out more about Adam Baddeley, Inpatient Therapy Services Lead, below!
When did you start working in the NHS?
August 2002.
What inspired you to join the NHS?
I received a lot of treatment from a Physiotherapist as a teenager for sporting injuries and this inspired my career to work in healthcare. I am passionate about access to healthcare for all which is such an important part of the NHS.
What does a day in the life look like for you?
The day begins at 8.30 for me and often starts at full throttle, with operational service decisions to cover staff absence and responding to the continually evolving pressures that an acute hospital faces each day.
Each day is varied in the activities my role encompasses operational management, problem solving, service development, communication, supervision of staff, education, and some clinical work. I would say there is no typical day. Every day is very demanding but also very rewarding.
What's your favourite part of working at MKUH?
MKUH is such a friendly hospital to work at, when you walk around the site it is common for people to smile and ask how you are. It is a close-knit community.
Do you have any advice for colleagues new to the NHS?
Be at the centre of driving your own development and career, there are so many diverse opportunities and roles in the NHS that enable a person to grow and achieve their potential.
Where do you see the NHS in the future?
I see the NHS being one of the leading healthcare systems in the world, providing cutting edge medicine. But I also see the NHS moving to a more personal and at-home model of healthcare, where the patient's whole needs are the driving force behind the care they receive.
Describe the NHS in one-word.
Complex.