Two centuries of dedicated help for Milton Keynes Hospital Radio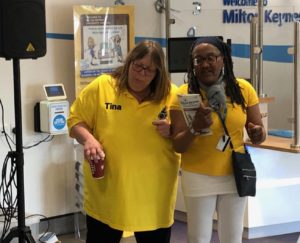 The current volunteers at Milton Keynes Hospital Radio have amassed a total of 200 years' voluntary service in the hospital by providing engaging entertainment for the patients and, as volunteers' week takes place this year, it's worth saying a big thank you to their ongoing commitment.
Having been a part of the hospital community since building first began on the site in 1984, the service which they provide gives a welcome distraction to the potentially anxious situation which patients may find themselves in. Listening in to a friendly voice also helps to reduce any isolation which they may experience.
Hospital radio broadcasts 24 hours a day via the free hospital WiFi and the volunteers produce and present 80 hours of live programmes a month alongside other pre-recorded material which they know is well received as the patients regularly give them plaudits during their ward visits.
Last Modified: 4:07pm 02/06/2023
For all media enquiries please contact [email protected]