Planned MyCARE patient portal downtime – 22nd January
Please be aware that our MyCARE patient portal will be unavailable for approximately two hours between 09.30 – 13.30 on Saturday 22 January due to essential maintenance work that will be taking place. This work is to ensure the continued safety of the platform and so that you receive the best possible service.
During this time, patients will not be able to view or change appointments, view clinical correspondence or discharge summaries or access any other functionality provided by MyCARE. If attempting to access MyCARE during the downtime, you will see the following screen.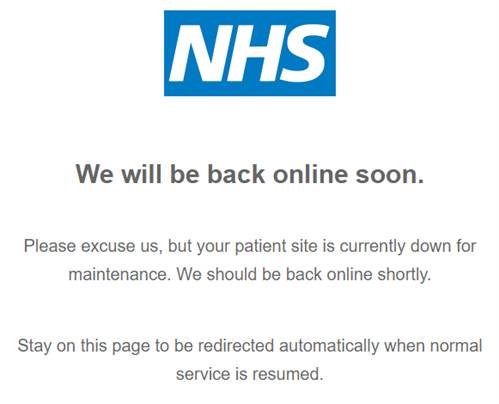 Following the upgrade, there will be no differences to how you currently use the system.
Last Modified: 7:59pm 18/01/2022
For all media enquiries please contact [email protected]