New gadgets help stroke patients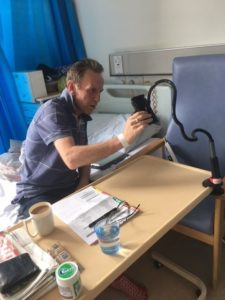 Milton Keynes Hospital Charity has purchased special mobile phone holders to help stroke patients at the hospital increase their independence and keep in touch with loved ones.
The gadgets, known as Goosenecks, can easily hold mobile phones and can be adjusted to a wide range of positions. This allows patients to use their mobiles hands-free – vital when many often have limited use of one arm.
Nina Roberts, MKUH's specialist stroke advanced nurse practitioner says: 'The Goosenecks can make such a difference to patients who are keen to use their mobile phones to Facetime or call family and friends, or to check their email or browse the internet. They easily hold a mobile giving the patient the option to use just one hand for texting. This is vital for stroke patients who may temporarily have limited use of one of their arms. We're grateful to the Hospital Charity for purchasing these for the Stroke Unit.'
Patient Christopher Howard is one of those who has benefited from this new gadget.
'It's been really great to be able to have something like this to hold my mobile,' he says. 'It gives me a lot more independence as I've currently got limited use on one side of my body. It's such a simple tool but makes life a lot easier, especially these days when we rely so much on mobiles to keep in touch.'
Last Modified: 3:34pm 06/09/2021
For all media enquiries please contact [email protected]