NAW – An interview with Lee Pockett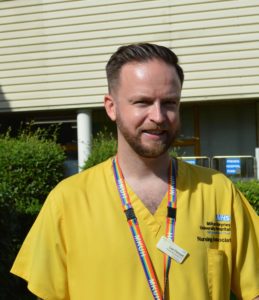 Can you introduce yourself and tell me a little bit about your job role?  
My name is Lee and I am a third-year nursing apprenticeship student based in the Emergency Department in Milton Keynes University Hospital.
My role job role is currently a mixture between a qualified Nursing Associate, alongside a Nursing apprenticeship student part time – which I study remotely.
What led you to apply for an apprenticeship programme at MKUH?
At the age of 30, I had decided to take a change in my career direction, with the end goal of becoming a qualified nurse.
I began as a healthcare assistant working in theatres, from there I completed an evening access course to help achieve the grades/qualifications I would need to begin my university journey.
The Nurse Associate programme had just launched, and I was lucky enough to gain a place on the initial cohort.  For the next 2 years I worked and studied in parallel, which whilst juggling a young family worked very well.  The end goal has always been to complete my nurse training, upon completion of my Nurse Associate training I had looked for a route to achieve this.
When the Nursing apprenticeship was developed and rolled out this was my route into achieving my end goal.  I am now one year away from completing my BSC Nursing apprenticeship Degree.
How are you finding your studies?
I am really enjoying my time studying. The programme allows me time to cover both the theory and practical sides of nursing.
Being an apprentice, I am allocated the time to complete my academic work, which whilst juggling family life is invaluable.
Would you recommend this programme to others? 
I would 100% recommend the programme to anyone who is looking to begin their career in healthcare.
What are your Career plans after you finish your apprenticeship?
I have many career aspirations over the next ten – fifteen years. Once I have completed my training, I want to gain a role as a qualified nurse within the Emergency Department. Further down the line, I plan to complete my masters degree and specialise in palliative care.
Last Modified: 5:05pm 15/03/2022
For all media enquiries please contact [email protected]