MKUH Welcomes New Mental Health Practice Educator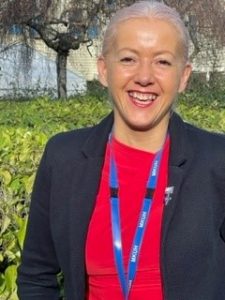 Kerry-Jane Woods (Kerry) has joined the Trust in the newly created role of Mental Health Practice Educator. Kerry has a broad remit to engage in existing and new educational and training activities to support colleagues and patients across the Trust around the mental health area.
Kerry, a registered mental health nurse, brings a wealth of experience to the role. She says: "I was attracted to this role for a variety of reasons including 'The MK Way' Trust values and what they represent both resonating on a personal and professional level as well as providing a brilliant opportunity to influence approaches and attitudes to mental health within an acute hospital setting to achieve parity with our approach to physical health."
Kerry looks forward to being able to connect and collaborate inclusively with colleagues and patients to grow mentally healthier communities reducing stigma, discrimination, and oppressive practice.
"To help maintain and spread kindness and compassion toward self and others it is vital that all colleagues feel authentically heard, understood, valued, and supported as they work in turn to support our patients and each other. I will be working across all areas of the Trust on mental health educational and training initiatives to build and strengthen current understanding and confidence around the area of mental health, which I hope will have a positive ripple effect on culture as well as morale and resilience to support, reinforce, and encourage individuals and teams.
"Sadly, even in 2023, people may still experience direct/indirect stigma, discrimination around mental health, so this role provides a fantastic opportunity to connect The MK Way and reduce and eventually eradicate that so that we can be open and honest about mental health at all times".
Kerry will be developing a diverse range of existing and new mental health related activities and delivering them in consultation with colleagues, including safe reflective spaces such as leadership support circles that encourage leading with compassion & REACT that will build on individuals' confidence to hold psychologically-minded conversations around mental health. "In the NHS, stress, burn out, and moral injury is a major factor for so many of us, so it is vital that we support and be kind to self and others to enable recovery in the best way possible."
Kerry brings a wealth of expertise with her spanning over a quarter of a century. In addition to practising and specialising in mental health nursing in a variety of  inpatient, community, and secure hospital and prison settings across the UK, she is also a Coach, Mental Health First Aid England Instructor for Adult, Youth and HEIs, Neurolinguistic Programming (NLP) master practitioner, Schwartz Round and REACT facilitator, Improvement Academy Safety Huddle Coach and Mindfulness Based Stress Reduction, Quality Service Improvement Redesign, and Myers Briggs Type Indicator Practitioner.