MKUH Nurse Specialist wins in Milton Keynes' Largest Inspiration Awards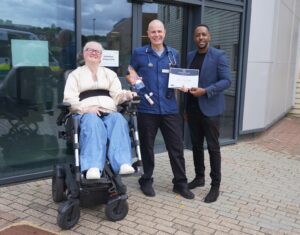 Respiratory Clinical Nurse Specialist James McHugh was the recipient of the Inspiring Emergency Worker Award at The Milton Keynes Awards 2023. The awards, organised by Iconic Media Concepts, recognise some of Milton Keynes' most inspirational and selfless people. James was unfortunately unable to make the ceremony so was presented with his award at the hospital.
James was both surprised and delighted to receive the award.
"It is such an honour to be chosen for this award. I am passionate about my role working with respiratory patients here at Milton Keynes University Hospital," said James. "It is wonderful to know that my work has been recognised in this way.'
James, who has been a respiratory clinical nurse specialist for 10 years and has worked at MKUH for 25 years, primarily supports patients across Wards 15 and 16. He also has a roving role supporting patients in the Trust with all respiratory conditions.
The Milton Keynes Inspiration Awards receive over 12,000 nominations and votes annually. Founder and CEO Tee Minya said: "This is our 6th awards season, and it has been amazing to see so many outstanding role models being recognised. We always look to those who represent progress, spirit, and resilience."
Nominations will reopen again on the 26th of December 2023 – so don't miss out on your chance to get involved. Visit www.mkinspirationawards.co.uk to see all the 2023 winners.
Last Modified: 1:33pm 07/08/2023
For all media enquiries please contact [email protected]