Mindfulness artwork is supporting expectant mothers at MKUH
Milton Keynes University Hospital is displaying an exhibition of paintings promoting mindfulness to support the health and wellbeing of expectant mothers and those who support them.
The exhibition, called Linear Meditations, is currently being held at the Antenatal Day Assessment Unit and Obstetric Ultrasound area the hospital.
Featuring the works of influential British abstract artist Wilhelmina Barns-Graham, Linear Meditations has been specifically designed with care settings in mind to enhance the care environment and improve patient and staff wellbeing. To help patients and staff engage with the display, the exhibition has a series of practical mindfulness exercises.
It dives into the representations of water made by Barns-Graham in her drawings, paintings and etchings between 1975-2002. Capturing water in a variety of forms, from glaciers to seascapes, the exhibition explores the power of water to both calm and captivate.
The exhibition was developed in partnership with Barns-Graham Trust, Imperial Health Charity and emerging curator Briana Oliver.
Melissa Coles, Lead Midwife in the ADAU, said: "This exhibition is wonderful as it has a really positive impact on pregnant women and those who support them at what can be a highly emotional time. The artwork not only has a calming effect but also engages patients and staff in mindfulness exercises which is particularly useful in this kind of environment."
Stuart Isaac, Artistic & Programmes Director at Arts for Health Milton Keynes, said: "I am delighted to welcome the Linear Meditations exhibition to Milton Keynes University Hospital, continuing our partnership with Paintings in Hospitals. The artworks help promote a wellbeing focused environment and innovatively encourage engagement with the artworks through the mindfulness exercises."
Amisha Karia, Head of Collection, Loans & Programming at charity Paintings in Hospitals, said: "I am thrilled this exhibition is touring to the Antenatal Day Assessment Unit at Milton Keynes University Hospital. I believe it is the perfect location for a meditative exhibition that features mindfulness exercises to the support health and wellbeing of expectant mothers and those caring for them."
The following piece is called 'Eight Lines', by Wilhelmina Barns-Graham. It is part of the Linear Meditations exhibition, which runs until 30 April 2020.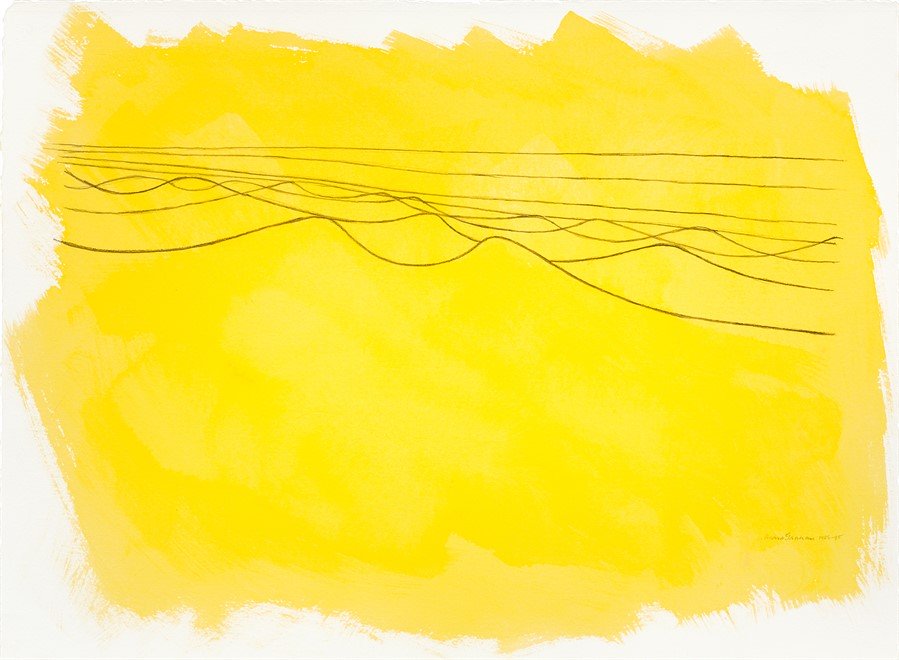 Last Modified: 11:49am 17/01/2020
For all media enquiries please contact [email protected]