Milton Keynes Cancer Centre to open to outpatients on Monday 9 March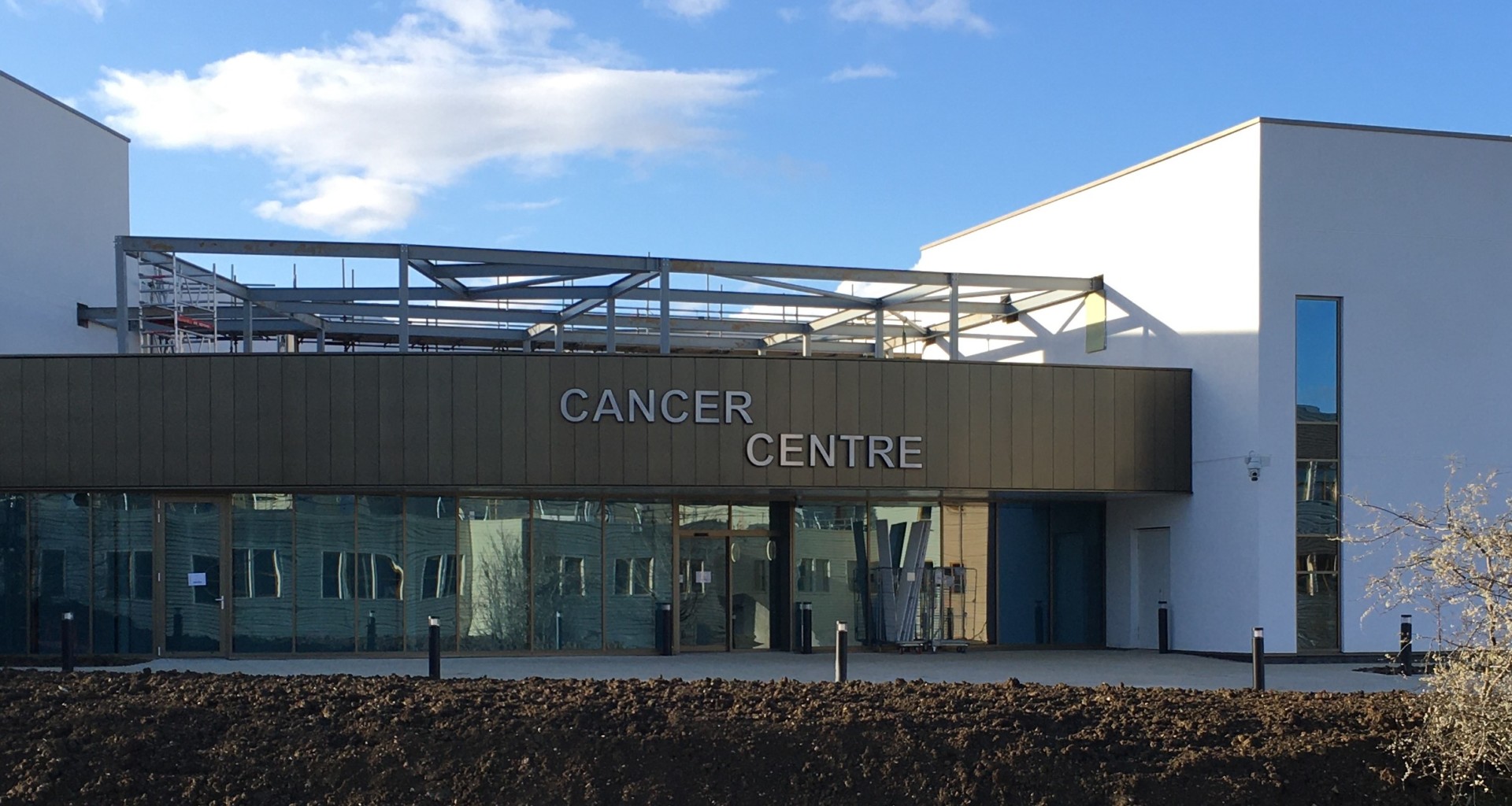 Milton Keynes University Hospital's new £15m Cancer Centre will open to outpatients and visitors as of Monday (9 March), bringing significant improvements to cancer treatment and support in MK and the surrounding areas.
The Cancer Centre brings together under one roof all of the cancer services which were previously provided across three locations on the hospital site. It offers oncology, clinical haematology and cancer-related chemotherapy services, inpatient and outpatient services alongside a wellbeing support service, allowing MKUH to significantly improve the quality of its cancer services to patients whilst also helping to increase capacity.
The new centre means MKUH can better support each and every cancer patient, providing most of the cancer services they need in an excellent environment. It will provide a dedicated space offering treatment and a wide range of information and support services to anyone affected by cancer, all within a comfortable and welcoming environment that is also appropriate for patients' families.
Please note that all appointments scheduled to be held in the Macmillan Unit from Monday onwards will instead be held in the Cancer Centre.
Facilities include:
Outpatient consultation rooms, procedure rooms and a specialist treatment rooms.
A 24-bed inpatient ward (16 single en-suite rooms) including two two-bed bays and a four-bed assessment bay.
Chemotherapy Suite.
Irene Crosswell Macmillan Wellbeing Lounge.
Holistic support and group therapy wellbeing rooms.
11 clinic rooms.
Quiet rooms and family visiting rooms, a spacious and uplifting environment with beautiful landscaped gardens and new artwork.
An exciting 3D tour is available now to show you around the centre!
Within the Wellbeing Lounge, which offers information and support in the Cancer Centre, there is a group activity room, a therapy studio for patient clinic appointments and an information lounge. The wellbeing team includes a physiotherapist, dietitian and psychologist and will work within the lounge alongside nurses in supporting patients, assisted by volunteers who will offer a listening ear.
A new link corridor has been constructed between the Cancer Centre and the main hospital building for patients, visitors and staff to use. The site will also have room for expanding MKUH's cancer services.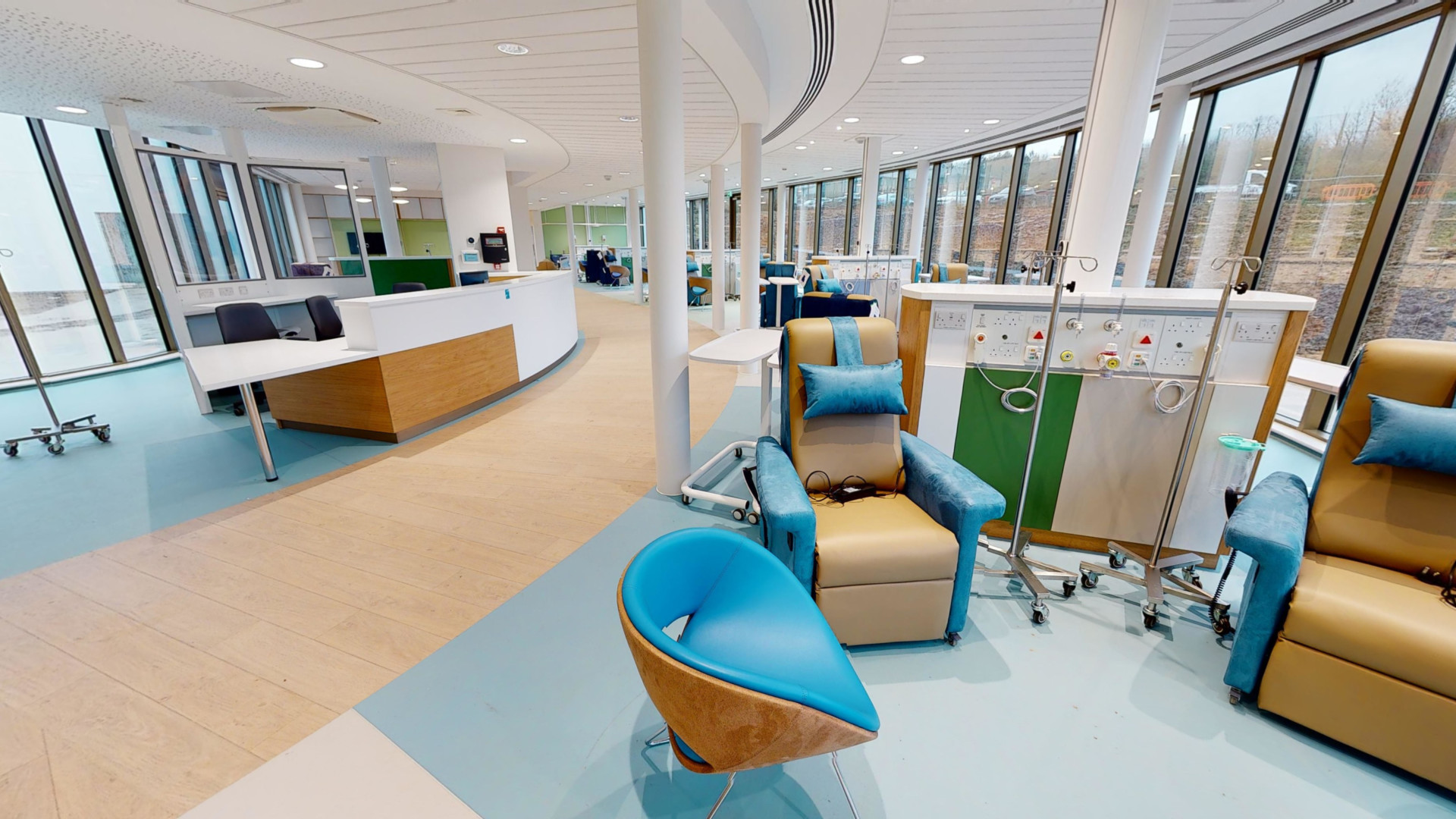 MKUH Head of Cancer Services Sally Burnie said: "Many Milton Keynes residents can now receive more holistic treatment for cancer in a much more comfortable and appropriate way. It is absolutely needed in order to keep up with the growth in the area and help to continue to provide the services for patients, both now and in the future."
MKUH Chief Executive Joe Harrison said: "The opening of Milton Keynes Cancer Centre represents a huge leap in the journey to transform cancer treatment, care and research here in Milton Keynes, enabling our staff to provide a much better service to patients. It is a truly wonderful facility of which we are all very proud, and it signals our commitment to delivering the best care not just now but for future cancer patients in Milton Keynes and the surrounding areas."
Cllr Hannah O'Neill, Cabinet Member for Health and Wellbeing at MK Council, said: "The opening of the new Cancer Centre is great news for our residents who will now have access to a number of different services all under one roof. I'm glad that our investment has helped bring this much needed facility to MK, which will help people get the treatment they need."
Macmillan Cancer Support Chief Executive Lynda Thomas said: "This further investment in cancer care services in Milton Keynes will mean a lot to people affected by cancer, helping the Trust and Macmillan deliver services people need in a much-improved environment. It's an excellent facility from which we can work with the Trust to develop further cancer care services."
The building has been supported by Milton Keynes Council (£10 million), Macmillan Cancer Support (£2 million) and a public fundraising appeal by Milton Keynes Hospital Charity.
There will still be some building work on-site until the end of April 2020 for the pharmacy facility, administration block and planting in the gardens and the Trust apologises for any inconvenience this may cause.
See more photos of the facilities inside the centre on our Facebook page.