David's Stem Cell Transplant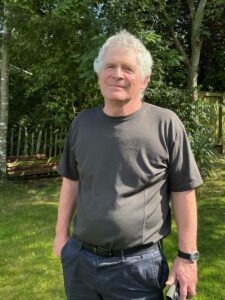 David Richardson thought that the reason he was slowing down was due to the natural ageing process – until an appointment to give blood proved otherwise.
In January 2018, before giving what he hoped would be his 79th pint of blood, he had a routine blood test which came back showing he was anaemic. He wasn't therefore allowed to give blood and instead was urged to make an appointment with his GP.
David, a printing technologist, thought little of it.
"I had always been very active, swimming long distances and doing lots of mountain walking. Everything had started to take a bit longer and I was more easily fatigued but I put it down to getting older," says David (65). "I had a blood test and wasn't worried, but the next phone call was from the hospital's haematology department asking me to come in urgently."
David did as he was told and after more tests he was shocked to be told that he was suffering from Myelodysplasia Syndrome (MDS) and was at risk of developing acute myeloid leukaemia.
"It was a huge shock. Basically, my bone marrow had failed and wasn't able to produce mature red blood cells," says David, who also developed sepsis while in hospital. After receiving chemotherapy, it became clear that he urgently needed a stem cell transplant. To begin with, clinicians looked for a younger unrelated donor for David, but no match was found. His brothers John and Gary were screened and it was discovered that his twin brother Gary was a match and prepared to donate his stem cells.
"We are fraternal twins which meant he could donate stem cells to me. If we had been identical, the process wouldn't have worked," explains David. He and his brother were both patients at Oxford's Churchill hospital, with David receiving his brother's stem cells in January 2019. He then remained on large quantities of immunosuppressants for a year to ensure that his body didn't reject the donated tissue.
"The procedure was very straightforward but there is a very high risk of infection following it, which the doctors warned me about. I wanted to live and therefore I did everything possible to ensure that was the case," adds David. "Obviously, I am not quite as fit as I used to be and have had to give up certain things like swimming. I tire more easily now but I am so grateful to the doctors both at Milton Keynes and Oxford, who did everything they could to ensure I am here today."
Last Modified: 3:58pm 12/09/2023
For all media enquiries please contact [email protected]