Bosom Pals (MK) presented with Queen's Award for Voluntary Service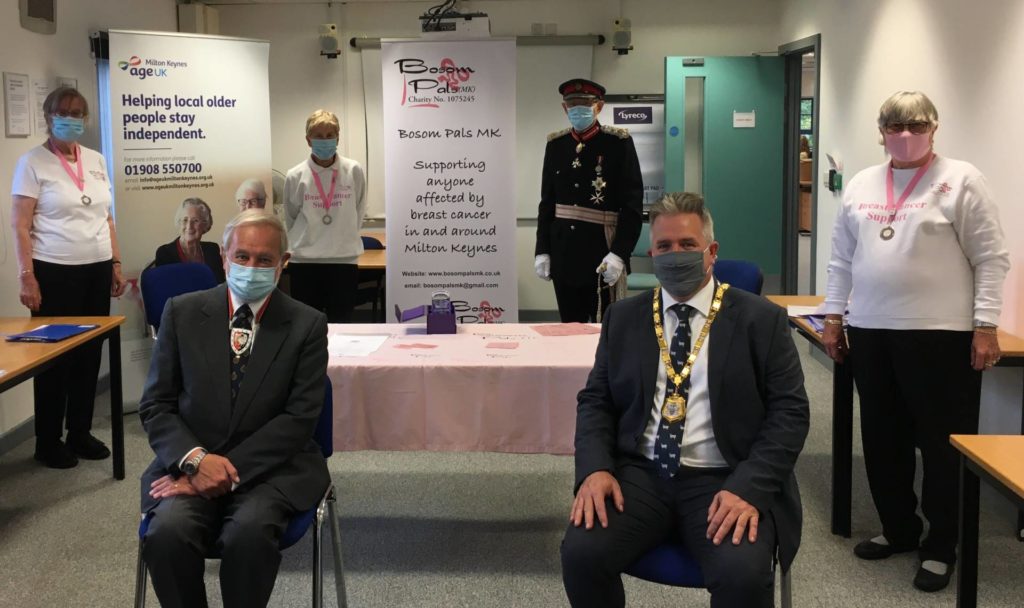 The Queen's Award for Voluntary Service has been officially presented to Bosom Pals (MK) in recognition of the amazing work they have done for Milton Keynes breast cancer patients over the past 29 years.
The influence of Bosom Pals (MK) has contributed significantly to patient services at Milton Keynes University Hospital's Breast Care Unit and the new Cancer Centre. Their main purpose, however, has always been to offer friendship and support to anyone affected by breast cancer.
Bosom Pals (MK) was founded in 1991 by two breast cancer patients with the help of a breast care nurse at MKUH. The group membership now stands at over 80 and includes several women with gynaecological cancers.
The award is the highest accolade a voluntary organisation can receive in the UK and was presented to Bosom Pals (MK) by HM Lord-Lieutenant of Buckinghamshire at a small, socially-distanced ceremony at the offices of AgeUK in Milton Keynes, on Tuesday 29 September, when the MK Mayor, Cllr Andrew Geary, and Andrew Farncombe, The High Sherriff of Buckinghamshire, were also in attendance.
Jaff Newton, who joined Bosom Pals (MK) in 1992 and has been President of the group since 2012, said: "It is wonderful for our Bosom Pals (MK) group to receive this award, which is a tribute to all our members past and present.
"We are thrilled and humbled that our work has been recognised, but it would never have been possible without the amazing support and generosity of the Milton Keynes people and the unstinting service and compassion of the staff of MKUH, who have been there for us every step of the way. We cannot thank everyone enough for their support, especially in these difficult times during the pandemic. None of this would have happened were it not for the Community Foundation who so kindly thought to nominate us for the award in the first place.
"We had planned for a larger event in the heart of Milton Keynes at The Rose, Campbell Park with our members and loyal supporters but this would not have been appropriate during this very difficult time. AgeUK at the Peartree Centre came to our rescue with the offer of their large meeting room and so three members of Bosom Pals (MK) – Chair Linda Wilson, Treasurer Doreen la Bastide, and myself – were able to receive the award from HM Lord-Lieutenant in the presence of the High Sheriff of Buckinghamshire and the Mayor of Milton Keynes. A full celebration will be the order of the day when circumstances allow."
Sir Henry Aubrey-Fletcher, HM Lord-Lieutenant of Buckinghamshire, said: "Congratulations to Bosom Pals (MK) on their Queen's Award for Voluntary Service which is a credit to all their volunteers who provide much-needed support to those diagnosed with breast and gynaecological cancer in Milton Keynes. Since the awards were created in 2002, just 46 organisations have received the Queen's Award for Voluntary Service in Buckinghamshire. I commend them on this remarkable achievement which is richly deserved."
Sally Burnie, Head of Cancer Services and Lead Cancer Nurse at MKUH, said: "We are delighted that Bosom Pals (MK) has received this award for all of their support, work and contribution to cancer services and patients in Milton Keynes over the years.
"The group have made a real difference to patients with their dedication, care and compassion and they fully deserve this prestigious award."
For more information on Bosom Pals (MK) please visit their website at bosompals-miltonkeynes.btck.co.uk
Last Modified: 9:36am 03/11/2020
For all media enquiries please contact [email protected]