Milton Keynes University Hospital on course to deliver Radiotherapy treatment centre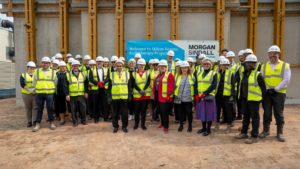 On Thursday, May 4th, Milton Keynes University Hospital (MKUH) celebrated an important point in the construction of its new Radiotherapy Centre, with a topping-out ceremony hosted by site contractors Morgan Sindall.
A topping-out ceremony is a construction tradition, which marks the moment when the structural framework of a building is completed, by placing the final beam in place. The Radiotherapy Centre construction has now reached this point and is on track to be completed by late summer 2024.
Guests from key stakeholder groups, including MKUH, Oxford University Hospitals, Morgan Sindall Construction and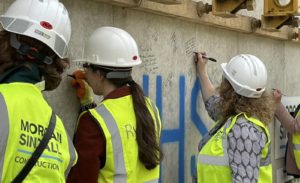 Milton Keynes Council, joined the celebration that took place at the Radiotherapy Centre construction site. Welcomed by MKUH CEO Joe Harrison and Morgan Sindall Area Director David Rowsell, guests also heard from Sally Burnie, Head of Cancer Services and Lead Cancer Nurse at MKUH, and Melanie Beck, Chief Executive at My Milton Keynes BID, who is a past patient and donor. Attendees were then invited to sign a major feature of the build – the bunker that will house its linear accelerator (LINAC) radiotherapy treatment suites.
The new Radiotherapy Centre will make it much easier for cancer patients to receive life-saving treatment right here in Milton Keynes. Almost all those needing radiotherapy currently travel much further afield to places such as Oxford for their treatment. Last year these journeys amounted to 6,400 fractions (a fraction being one treatment of a radiotherapy course).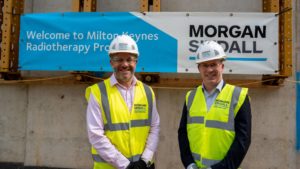 MKUH, Chief Executive Officer, Joe Harrison, said:
"We are delighted to be able to come together today to celebrate this key moment in the Radiotherapy Centre build.  It has been a great opportunity to highlight the importance of the new facility, which will offer radiotherapy treatment much closer to home for many patients. It will be a very welcomed addition to the current cancer care services we provide in Milton Keynes, and we would like to thank our partners, benefactors, and the community for their tremendous and ongoing support in delivering this new service."
Morgan Sindall, Northern Home Counties area director David Rowsell, said:
"Today's topping out ceremony is a great opportunity to look forward and understand how this new centre will provide an exceptionally valuable medical asset for the Milton Keynes' area for many years to come."
"The close and collaborative working relationship that we've continued to enjoy with Milton Keynes University Hospital has been a central aspect of the development and has ensured that this new facility and the local community benefit from an advanced design and a streamlined construction process".
Last Modified: 9:54am 30/06/2023