Supporting your partner or relative at night on the maternity wards
Please note, this page is printable by selecting the normal print options on your computer.
Why stay with your partner/relative?
The maternity department recognises that new mothers or mothers-to-be value support from their partners or relative, and recognise that this helps with family bonding and reduces anxiety and stress.
As part of this agreement we will ask your partner or relative to assist in caring for you and your baby.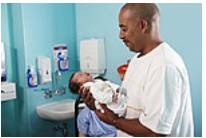 As well as making your stay as comfortable as possible we do have to make sure that all new mothers are safe and maintain their privacy and dignity. If you are intending to stay on the ward please can you take a few moments to read the following information guide.
Protect
• Ensure you wash your hands regularly and use the alcohol gel provided. If you are unwell we ask that you do not visit within 48hrs of having diarrhoea and/or vomiting or any signs of infection, to reduce the risk of cross infection to mothers and babies
• Do not bed-share with your partner or sleep on the floor. Due to limited space we are unable to provide beds or bedding, however a chair will be available. Partners must not lie on empty beds as this poses an infection risk for other patients
• Our staff on the ward are busy and prioritise the care they give. They may not always be available promptly. Please be patient if you require assistance.
• Please alert a member of staff if help is required urgently
• We ask you not to touch drips, needles, catheters, wounds dressings, monitors etc.
Safety
• Due to Health & Safety considerations only one adult family member or partner may stay overnight. We are sorry but children may not stay overnight. For Health & Safety reasons we will ask that you sign the 'Partner or family member staying overnight' agreement so that in the event of a fire staff know who is on the ward.
• Space is limited around the bedside and staff will need to access your partner and new baby. Please unpack your belongings into the locker provided and return bags and suitcase to your car. This will leave the floor space clear.
• If your partner of baby requires urgent medical attention, stay as calm as possible and let staff do what they need to do. Following any such event a member of staff will provide information and support to you both
• Avoid distracting or interrupting staff that are checking and giving medicines and other treatments.
• Although your baby will enjoy being cuddled to settle, please do not put yourself in a position where you could doze off with your baby in an armchair as this is not safe. If you are very tired your baby should be placed in their cot. Please ask a midwife about Safe Sleeping for your baby
• The Hospital operates a zero tolerance policy on abuse towards staff and/or patients. Please respect this and allow staff to give their best care at all times. If you are asked to leave, please do so straight away. The Security Team can be called at any time to assist
• Anyone who is under the influence of alcohol and/or drugs will not be permitted to stay
Respect
• To avoid embarrassment you must remain fully and appropriately dressed at all times. Please wear shoes/slippers and do not walk around in bare feet
• Please keep noise and light to a minimum especially overnight so that all mothers can get as much well needed rest as possible. If there is too much disturbance (which includes snoring) for other mothers on the ward, please do not be offended if we ask you to leave
• Please respect the privacy and dignity of others staying on the ward. We request you respect the curtained areas around neighbouring beds and do not wander about. Some women may find strangers wandering around uncomfortable or possibly threatening especially during the night
• Please ensure that all mobile phones are switched off or on silent between the hours of 9pm – 7am. Chargers for personal devices present a fire risk. Please use only the manufacturers original charger and cable supplied with or designed and correctly specified to work with the device being charged. The charger and cable should be in good order with no signs of damage.
• We ask that you remain on the ward and do not come and go. This is so staff are not taken away from caring for women, mothers and babies to let people in and out. It also prevents other women from being disturbed
Refresh
• You are welcome to use the delegated visitors toilet located on Ward 9, but you will have to return home to wash or shower
• We cannot provide meals to partners and visitors and we do not have facilities for the storage or heating of food or drink for visitors. During the day you are able to purchase snacks and meals in the main hospital, Eaglestone restaurant and shops located in the main entrance. If you would like a hot drink there are drinks station stations in the family room on Ward 9 and dining area. We ask for a small payment of 50p per drink in the 'honesty box'
• Milton Keynes University Hospital is a smoke free site, so please do not smoke. We offer advice, help and support to our patients to stop smoking permanently.