Hip Fracture: A guide for patients and relatives
Please note, this page is printable by selecting the normal print options on your computer.
Fractured neck of femur
This booklet helps you to understand what is happening during your stay in hospital. It explains some of the things that may happen while you are with us and why.
Introduction
This booklet aims to help you and your relatives/ careers understand what is happening during your stay in hospital. It explains some of the things that may happen while you are with us and why.
Everyone is different. Therefore some parts of this booklet may apply to you more than others. Your care and treatment may be slightly different to what is described but most of will be similar.
Please read the contents of this booklet and ask any members of our team your questions at any time.
The National Hip Fracture Database
What is the National Hip Fracture Database?
A hip fracture is a common injury, and caring for patients with a hip fracture is an important part of the work of the NHS. This hospital takes part in the National Hip Fracture Database (NHFD),
which has been set up to improve the care of patients who have broken a hip. Information gathered about care in hospital and about recovery afterwards enables us to measure the quality of that care and helps us to improve the services we provide.
Reports based on NHFD data are made to our clinical staff to assist them in improving care here. The NHFD national reports show how different hospitals compare, thus helping to improve standards of care nationally. So, information about your care and progress is important, and will be collected during your hospital stay. And, because progress after you leave hospital matters to us, you may be contacted later about how you are getting on.
All information collected is confidential, and no information is ever made public about you or about any other patient. All NHFD information is stored, transferred and analysed securely – both in this hospital and within the national database – in keeping with the provisions of the Data Protection Act (1998). Participation is, of course, voluntary; and you are free, if you wish, not to take part – tell your doctor if you do not wish to participate. However, the more people take part, the more helpful NHFD will be in improving care.
NHFD is supported by the National Clinical Audit Support Programme, a division of the Information Centre for Health and Social Care.
What Is a Hip Fracture?
In this section we explain what a hip fracture is, the type or surgery and anaesthetics you may have, and the benefits of having this operation. We also list the main risks. We will discuss all of these with you and your relatives or careers before asking for consent to the operation.
What is a fractured neck of femur?
A neck of femur fracture or a hip fracture is terms used for a broken hip. It is a very common injury, which affects mainly older people. Around 65,000 hip fractures are treated each year in the UK, and is one of the most frequent reasons for being admitted to an Orthopaedic ward. Your hip is a ball and socket joint that sits between your pelvis (acetabulum) and your thigh bone (the femur). A hip fracture is a break at the top of your femur. The operation you have will depend mainly on which part of the femur is fractured.
This is a serious injury, although the outcome for most patients is good, the fracture alone is associated with causing high rates of illness and in the frail and elderly possibly even death within the first month (with or without surgery). The estimated risk of death for patients having an emergency operation for a hip fracture is 10% (1 in 10) die within 1 month. An individual persons outcome will depend on how fit they are prior to the injury.
The aim of surgery is to get you back on your feet and home as soon as possible. We anticipate a stay of 7-14 days, however some people recover quicker and others require a little more time. Everybody's journey will be different.
Why do I need surgery?
We almost always recommend that you have an operation in order to fix the fracture. We aim to do it as soon as possible within our capacity. The earlier we fix your bone, the better your recovery in the longer term. In some cases it may be best to treat the fracture without an operation. This shall be discussed with you or your relatives and careers if this is felt right for you.
What type of surgery will I have?
This depends on how severe the hip fracture is and what part of your femur is affected.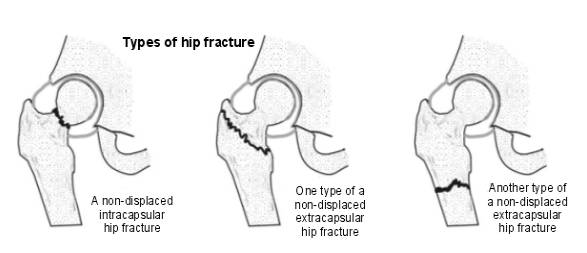 If the head or the neck is affected and there is little or no displacement of your fracture, surgery involves stabilising the head.
This can be done in one of two ways:
1. DHS (Dynamic Hip Screw) fixation
2. Intramedullary Nail (IM Nail) fixation
As the fracture is below the neck of femur, nothing needs to be replaced. This can be fixed using a large screw or place. Sometimes, when the break is lower, a long mental rod is inserted into the femur instead (IM Nail).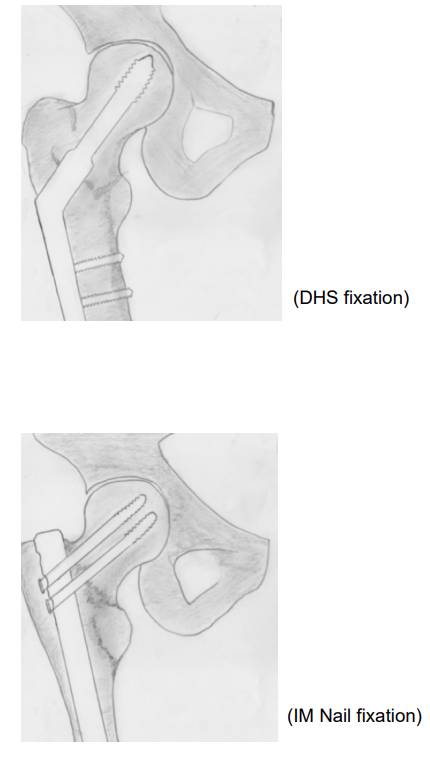 More usually the break happens at the head and neck and it is displaced, which means the bones break and move out of place. In this case we replace the head of the femur.
This can be done in one of two ways:
1. Total Hip Replacement – replacing both the ball and socket
2. Hip Hemi-arthroplasty – replacing just the ball.
In both these operations, we remove the broken part of the femur containing the head (ball). Replace it with a metal head, which comes attached to a 'stem# which we insert into your healthy femur, usually with special cement, so the stem holds well inside the bone. In a total hip replacement, we also replace the socket (acetabulum). This is a bigger operation that national guidelines advise us to offer only to people who need little assistance with outdoors mobility and who have a good understanding of the rehabilitation process.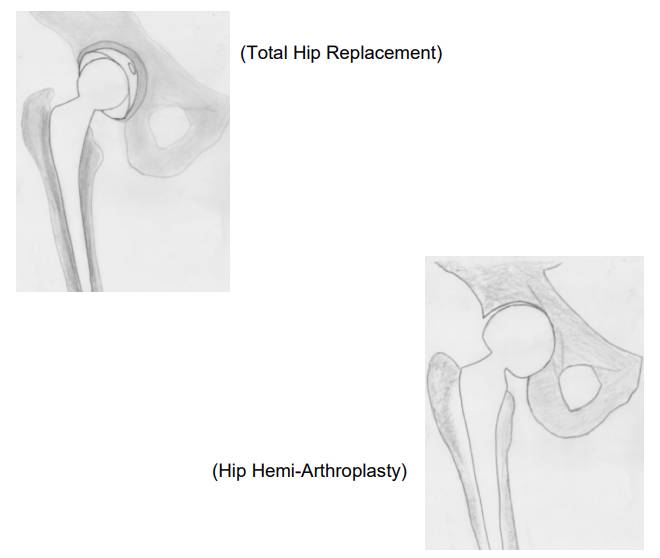 Benefits and Risks
What are the benefits?
The operation aims to:
• Enable you to stand, walk and put weight on your injured leg again
• Relieve your pain and discomfort.
What are the risks?
Listed here are the main risks involved with having these operations. Some of these are more common than others. As everyone is different, we will discuss individual risks with you and your relatives or careers.
Wound Infection: There is a small risk of infection at the wound site. A dressing will go over the area to keep it covered and clean. We will keep an eye on this in the first week to check if it becomes wet or discoloured.
Bleeding: All operations carry a small risk of bleeding. Before your operation, you will have a blood test to check your blood count (haemoglobin). You may need a transfusion if you lose blood either during or after surgery.
Thrombosis (Blood clots): Blood clots are more common if you have had an operation or less able to walk. Your risk is therefore increased by having had broken hip. We will offer you a blood thinning injection every day to reduce this risk.
Dislocation: Dislocation is when the head (ball) of the hip replacement comes out of the hip socket. This is very rare and the physiotherapist will teach you exercises to minimise the risk of this happening and to strengthen the muscles around the hip.
Delirium (Confusion): It is common to experience a temporary period of confusion whilst in hospital which you people may refer to as delirium. There are a number of different symptoms and it affects everybody differently. You may feel more disorientated than normal, or find it hard to remember things, you may feel agitated or hyperactive, or you may become more sleepy than usual. We will check you for subtle and early signs of this type of confusion. Common causes include constipation, infections, pain, new medications, dehydration or simply being in a different environment. Delirium is only temporary and you usually recover quickly. Relatives can help by visiting and informing our staff about you, your personality and your likes and dislikes so we can try and put you at ease during this time of confusion.
Chest Infections: This is common if you have not been able to get up and out of bed for a while. This is because the lungs cannot expand as much when you breathe in. You may need a course of antibiotics to treat this and chest physiotherapy.
Pressure Sores: Again, this is common if you have not been able to get up and out of bed for a while, you can develop pressure sores in the areas where your weight is in contact with the bed. You shall routinely be put on a pressure reliving mattress on the ward and the staff will check your skin integrity on a regular basis.
Anaesthetic
There are several types of anaesthesia with different benefits and risks. You may have more than one and the choice will depend upon assessment considering the type of surgery and your past medical history. Below is the list of different types:
General Anaesthesia:
This is where you will be completely asleep during the operation. You are given drugs through a drip line into your vein, usually in your arm and/ or drugs that you can breathe in, before and while you are having the surgery.
Neuraxial Block:
This puts local anaesthetic around the nerves supplying your hip, high up as they leave your spine. You are either given an injection into your spine or as an epidural. This keeps you comfortable throughout surgery. You shall be awake with this option, but under sedation, during the operation.
Regional Nerve Block:
This puts local anaesthetic directly around the nerves in the hip. A regional nerve block keeps you comfortable throughout surgery. You will be awake, but under sedation, during the operation.
The Team Caring For You
Orthopaedic Consultant: The consultant will be the doctor in charge of your care. They specialise in operations of the bone and will over see your care whilst on the ward.
SHO Doctors: The ward based doctors will look after you on a daily basis and will coordinate information of your medical needs.
Orthogeritrician: Specialist doctors in the care of the elderly. Will work alongside your Orthopaedic doctors.
Anaesthetist: Helps the surgical team to plan and carry out a safe operation.
Pharmacist: Review your medications when you are admitted to hospital and again on discharge.
Trauma Coordinator: Co-ordinates the work of all multi-disciplinary teams involved in your care to ensure that you have a smooth journey in hospital and receive the best care we can offer.
Nurses and Healthcare Assistants: Based on the ward and help you to recover from the operation and assist you on your journey.
Physiotherapists: Support you to build up your muscle strength and get walking again.
Occupational Therapists: Helps you with any changes you might need to make to your everyday routine, so you can be independent as possible and ensure you have a safe discharge destination.
Before Your Operation: What To Expect The Emergency Department: The doctors and nurses in the emergency department will assess you by completing some basic investigations to diagnose your broken hip.
Hip X-ray: An x-ray allows doctors to conform that your bone is broken. Sometimes it can be difficult to see a small fracture on an x-ray image and further imaging will be required.
Chest X-ray: A chest X-ray allows us to see if you have a chest infection which may be the reason for the fall. The anaesthetist will also use this x-ray to plan the safest anaesthetic for the operation.
Electrocardiogram (ECG): This shows us how well your heart is working. This also helps us to find out why you might have fallen over and to help plan safely for your operation.
Blood Tests: Your bloods will be taken routinely and this will help indicate to us if you are fit for surgery.
Pain Relief: Broken hips are rather painful so we will offer you regular pain medication both before and after your operation.
What happens before the operation?
You can eat and drink up to six hours before the operation and drink clear fluids up to two hours before. At this time, we can give you fluids through a drip line. One of our anaesthetics will come and see you and decide the best anaesthetic for you and the operation you are having. The Orthopaedic Consultant will come and see you and explain the procedure to you and answer any questions you may have. We shall ask you to sign a consent form to obtain your consent to go ahead with the procedure. Staff will explain the risks and benefits before we ask you to sign. We must complete this form before your operation by law.
After Your Operation: What To Expect
When you wake up from your operation you will be on the recovery ward where we can observe you more closely straight after surgery. You will stay there until you are well enough to return to the Orthopaedic ward.
Rehabilitation:
Your rehabilitation starts straight away. The aim of fixing broken hips is to enable you to put weight through the injured leg and start using your hip again the very next day. On the first day post operation a physiotherapist will come to assess you. This will include checking sensation and power of your muscles; they will also assist you while you get out of bed for the first time. They can work alongside the nursing team so you can continue to get in/ out of bed safely.
The Occupational Therapist will also come to assess you on your first day and will ask you questions regarding your home environment and how you was managing before the fall. The aim to allow you to regain independence and to be discharged home as soon and as safely as possible.
The therapist will attempt to see you on a daily basis during your stay with us. However you are in control of your own rehabilitation. They will give you exercises to complete throughout the day and it is important to get up and out of bed on a daily basis.
Pain Relief:
To be able to take part in your therapy sessions it is important that your pain is well controlled at all times. If your pain killers are not enough, please tell a member of staff so your prescription can be changed.
Bone Health
As you have broken your hip, you are at high risk if Osteoporosis, a condition which makes your bones weaker. Broken bones are often the first sign of this condition, so we will assess you while you are in hospital. This involves having some blood tests and asking questions about your life style and any other medical problems. If needed we can then give you a personal management plan, which may include taking medication to help strengthen your bones. You may also be referred for a scan called a DEXA (Dual Energy X-ray Absorptiometry), which will measure the strength of your bones. This will happen as an outpatient once you have left hospital.
We will also follow you up (either in clinic or over the telephone) 10 -12 weeks after discharge. This will give us a chance to educate you, follow up any medication started and monitor your progress.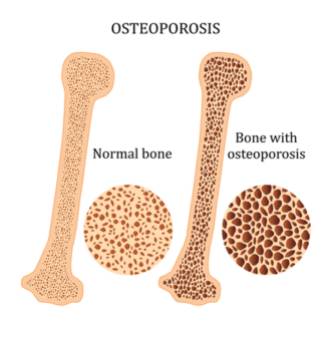 Going Home
How long you stay in hospital depends on many things, such as your ability to walk again, your general health and any complications after surgery. As you improve with the therapists they will continue to assess the best place for you to be managed. This may be to stay on the ward, to return home and receive therapy at home or to be referred for inpatient rehabilitation outside of the acute hospital.
Wound Management:
Metal clips are usually used to hold your surgical wound together. These stay in place until your wound looks as if it is healing well, with no signs of infection. The clips are usually taken out 10-14 days post operatively. This can be completed on the ward or if you are at home a nurse can come to visit you in the community.
Medication:
When in hospital you may be started on some new medication. The doctors and pharmacist will explain to you what they are for and how to take them. When you leave hospital we will give you two weeks supply of all medications. We will also send a letter to your GP so they can continue to give you repeat prescriptions.
Rehabilitation:
The therapists on the ward will complete relevant referrals for you when leaving the ward to ensure that you continue to receive the level of therapy you need. This may include referrals too: a falls prevention service, community physiotherapists or community occupational therapists.
Useful Contact Numbers
Ward 23: 01908 995472
Physiotherapy: 01908 995432
Occupational Therapy: 01908 995411
Milton Keynes Falls Service: 01908 650405
Trauma Coordinator: 01908 996634
Fragility ANP: 01908 996630
National Osteoporosis Society: 0808 800 0035