Caesarean Birth
Please note, this page is printable by selecting the normal print options on your computer.
The purpose of this leaflet is to provide you with information to enable you to make informed decisions about childbirth. A caesarean section birth is an operation by which your baby is born through a cut in your tummy (abdomen). You and your partner would be involved in any decisions made about your care and treatment where a decision for this procedure is considered. To be able to do this you need to understand what is involved and what your choices are. This leaflet aims to inform you about what will happen if you have a planned caesarean birth or if you have an emergency caesarean birth.
It will also discuss some of the reasons why a caesarean birth may be advised. A caesarean birth that is planned in advance is called an elective caesarean. A caesarean birth that is done at short notice if complications develop during your pregnancy or labour is called an emergency caesarean (even if you have booked a caesarean and is carried out sooner).
What are the reasons for a caesarean birth?
There are a number of reasons why your baby may need to be born by caesarean section and some of the reasons are listed below. The reason for your caesarean will be discussed with you with your doctor and midwife.
1.Position of the baby
Most babies will lie with their head down getting ready to be born. Occasionally, babies lie in other positions which means they may need to be born by a caesarean section, for example:
o Breech – some babies present bottom first and if this happens the doctor may feel that it is safer to deliver the baby by a caesarean however, a discussion will take place between yourself and obstetrician (doctor) to provide you with sufficient information in order for you to make a decision
o Transverse – when your baby is lying across in your womb (uterus). This is more common in women who have had more than one baby as there is more room for the baby to change position.
o Twins – Most twins can be born vaginally, particularly if the first one is head down. If the doctor looking after you is concerned about either of them, or rarely if there is a problem with the
second one once the first is born, you may need a caesarean.
2.Placenta
o Placenta praevia – where the placenta is low lying in the womb and covers all or part of the entrance of the womb (cervix) a caesarean birth would be advised as a vaginal birth is not possible.
o Placenta abruption – a caesarean birth may be necessary if the placenta comes away from the wall of the uterus and you may experience bleeding. If this occurs an emergency caesarean birth may be necessary.
3.Previous Caesarean
In some situations, you may be advised that a repeat caesarean birth is recommended. You will be referred to a consultant or to the VBAC (vaginal birth after caesarean) clinic to discuss your options.
4.Other Medical Conditions
Women with other medical conditions may be advised to have a caesarean section:
• HIV (depending upon your viral count)
• Genital Herpes (if you have your first episode in the last trimester)
• Heart disease (depending on the severity of your condition)
5.Maternal Request
You may request a caesarean when there is no clinical indication. The risks and benefits will be discussed with you to ensure you have accurate information and you may be referred to another healthcare professional before any final decision is made.
6.Caesarean during Labour
o Progress – you may need an emergency caesarean birth if your labour is not progressing as expected
o Baby's condition – If there is concern for your baby's wellbeing during your labour.
Risks/complications with a caesarean section
Although a caesarean section birth is a common and safe procedure, it is still classed as major abdominal surgery; therefore, there are risks and complications involved. Planned procedures carry fewer risks and complications in comparison with an emergency procedure.
Infection:
• The most common types of infection that can develop following surgery are to your caesarean wound, and your uterus. To reduce the risk, we give a dose of antibiotics during the procedure and afterwards if necessary.
Blood clots:
• All women having a caesarean section are at higher risk of developing a blood clot. To reduce this risk, women are advised to wear compression stockings and may require injections which reduce your risk further.
Injury to internal organs:
• Injury to the internal organs during the operation such as the bladder or bowel carries a small risk. This risk increases if the caesarean is done as an emergency or if you are overweight.
Bleeding:
• During an emergency caesarean your blood loss may be increased and you may become anaemic following birth. We will check your iron levels and treat with iron tablets if necessary.
Risks for the baby
• There is an extremely low risk of accidental injury to the baby during surgery this may involve a small scratch or cut to the baby's skin.
• It may be necessary to deliver the baby during surgery by using forceps; this may cause some temporary bruising.
• Babies born by a caesarean section may develop some breathing difficulties following the birth. This is more likely if the baby is premature or carried out before 39 weeks gestation.
• If delivery is recommended before 39 weeks gestation, steroids may be given to you to help mature your baby's lungs.
• A caesarean section may also increase the risk of your baby requiring a neonatal unit admission and a prolonged hospital stay.
Can I make a birth plan?
Although a caesarean section is a surgical operation you and your partner should be fully involved in the decisions and choices. For example:
• Choosing whether you want to see the baby born
• Who informs you of the sex of the baby?
• Having skin to skin contact in theatre
• Feeding your baby
You can speak to your Midwife and Obstetrician about your birth plan.
When is a planned caesarean (elective) done?
A planned caesarean birth is usually done after 39 weeks. On the date your caesarean is booked, the doctor will discuss the risks and benefits of the procedure and ask you to sign the consent form.
If you do go into labour before the date your caesarean is planned, you will need to phone the labour ward to come in to be reviewed.
Planned caesarean – what will happen?
The week prior to your caesarean birth you will be asked to attend an appointment for a pre-operative assessment in the antenatal clinic. At this appointment your bloods will be taken to check your iron levels and confirm your blood group. You will also be asked for a nasal swab to test for a bacteria called Methicillin-resistant Staphylococcus aureus (MRSA). We will also now be asking all women to be swabbed for Covid-19 in the pre-operative clinic.
You will be given capsules to take before surgery to dry up the acid in your stomach. The Midwife will instruct you about when to take them. You will need to stop eating and drinking at midnight the night before (except for the capsules) including chewing gum.
On the day of your caesarean section you will be asked to come to the ward at 07.30 in the morning. It is vital to arrive on time, as you may be the first theatre case of the day.
Remember to:
• Remove all jewellery (if you are unable to remove any piece of jewellery i.e. wedding bands this can be taped securely)
• Remove any nail varnish from fingers and toes.
• Shaving of the pubic area will be done by the midwife in theatre just prior to commencing the operation. This will be done with electric clippers as this has been shown to reduce your risk of developing a wound infection. On the day of the caesarean the anaesthetist will come and see you. They will discuss with you which type of anaesthetic is advised.
The obstetrician will also come and see you to explain the procedure and answer any questions you may have.
Emergency caesarean – what will happen?
If you have an emergency caesarean you will also have blood taken to check your iron levels and confirm your blood group in case you need a blood transfusion at any stage. The doctor will discuss with you the procedure and will ask you to sign a consent form. The midwife will give you an antacid capsule to help settle the acidity in your stomach and quickly prepare you for theatre – for example, take your jewellery off, remove your pubic hair and get you changed into a theatre gown.
You will then be taken into theatre to have your anaesthetic. You will either have a spinal anaesthetic or a general anaesthetic. If you have a spinal anaesthetic you will be awake and your birthing partner will be in theatre with you. If you have a general anaesthetic you will be asleep and your birthing partner will not be allowed into the operating theatre.
The anaesthetist and obstetrician will discuss with you which method of anaesthetic would be advised.
Who will be in theatre?
• Theatre nurses
• A midwife
• Anaesthetist
• Obstetricians
• A paediatrician if problems are anticipated
• Students (with your permission)
What sort of cut will I have?
Most women will have a small cut which will be in the lower part of your abdomen. This is known as a transverse incision or 'bikini cut'. On rare occasions, the cut may be a vertical incision.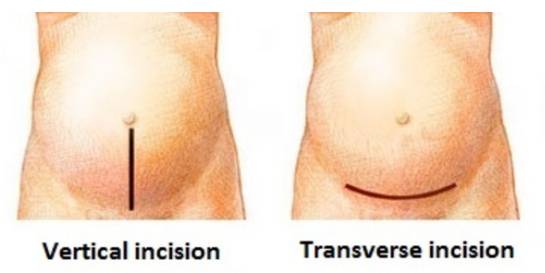 What will happen to my baby?
The Obstetrician will lift the baby out and the Midwife will dry the baby and hand him/her to you or your partner. You will be able to cuddle your baby and take photos and have some time together. Skin to skin contact is recommended for all babies, regardless of feeding method and if desired, will be commenced as soon as possible after birth. After surgery has finished you will be taken into the recovery room. If you have had a general anaesthetic the midwife will care for your baby and then take the baby to your birthing partner, otherwise, on most occasions the midwife and baby will remain with you in recovery before transferring you to the ward.
Further information can be obtained by speaking with your midwife or obstetrician.
Other useful leaflets:
• Vaginal birth after a caesarean section
• Enhanced Recovery following Caesarean Section
Date of Booked LSCS:…………………………
Please attend Ward 9 at 7:30am………………
Date and signature of Midwife:………………..
Pre-op Date:…………………………………….
Pre-op Information/Medication given:
Date and signature of Midwife:…………………