Governor Shirley Moon's blog
Hi, my name is Shirley Moon, and I am a publicly elected governor of Milton Keynes University Hospital NHS Foundation Trust for north-east Milton Keynes. I worked at the hospital for over 12 years before taking early retirement at the end of 2019.
29 September 2022
I've tried out the hospital's food – it's delicious!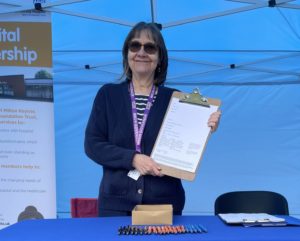 This week I've been privileged to spend some time with the Hotel Services department, led by Steven Hall, which I've not been able to do for a few years. With some significant investment by the hospital, things have been transformed since I was there last. 'Hospital food' used to be a phrase that everyone associated with bland poor-quality fare, so when I was invited to sample the new offering, I wondered what I'd let myself in for! Luckily for me the new style patient meals come from a larger menu range than previously, and are now steam-cooked from fresh on the ward so every patient gets their choice of dish hot from the oven. The salmon hollandaise was moist, perfectly cooked and delicious and the omelette was light and fluffy. I can recommend both and I'd have been happy if they came out of my kitchen!
Eaglestone Restaurant, which serves staff and visitors, has also had a makeover – not only with new counters and a better range of food but also by additional staff training to develop skills which help to drive more creativity and higher quality.
The cleaning team of around 300 staff had enormous challenges during the pandemic which they all managed to rise to. Now there's been a big focus on the green agenda with increased recycling, even waste food goes to a Biogen plant – although with such improvements in the food the wastage has been reduced to a fraction. Other recycling goes to a plant in Redditch, with the resultant energy being used to power the local hospital there.
I was delighted to catch up with a number of staff who had been on the Aspiring Managers courses that I used to deliver, and had since climbed the ladder and gone on to study other management courses and apprenticeships and now held management positions. The NHS is excellent at helping people to develop their careers and offer opportunities for growth, no matter what your starting point.
Thanks to Steven, Frank, Louise, Simon and their teams for being so welcoming. I am sure the Trust is justly proud of your achievements.
Why did I decide to become a governor?
Last year I saw information that governors were wanted for the Trust and, being passionate about the NHS, I thought it sounded like an interesting way to get involved with the Trust again and put my experience to some use.
Publicly elected governors represent Trust members who live in their constituency and help to give them a voice. The role of a governor also involves challenging the Board of Directors and holding the non-executive directors to account for the performance of the Board. That's the formal part; the fun bit is that we get to meet lots of people in all sorts of places and promote the Trust. For example, as governor, recently I've been out and about at events in my constituency, attending Newport Pagnell Carnival in July 2022 and, prior to that, Strawberry Fayre. And I've just started a project to help increase Trust membership amongst young people over 16 in local schools, so more on that in the autumn. Governors can get as involved as they wish, so there's plenty of scope to bring your own talents and interests to the role.
Who am I?
I started in the Trust as a Clinical Governance Facilitator back when that kind of role was a fairly new thing (so you can blame me for a lot of those governance structures!). Then I became a business manager for Core Clinical Division, and then finally the Apprenticeship Manager. While in the Trust I was supported to complete qualifications in management and leadership coaching. I then started teaching coaching skills for managers and set up the Trust's coaching service which continues to offer coaching to all staff. I also drew on my decades of experience in a range of industries to teach a number of management and leadership courses in the Trust. As an Apprenticeship Manager and as a coach and trainer, I really enjoyed helping people to grow their knowledge and careers.
My personal values are excellence, creativity and honour.
Getting out and about and meeting people – July 2022
One of the fun things about being a governor is meeting people. Recently I attended two events in Newport Pagnell to help the Trust to recruit more members. The first was the Strawberry Fayre, which turned out to be a lovely day which was great for all the families to browse the stalls and watch the dancing and activities in the central ring. The Trust have purchased a new gazebo for doing events, so a few days before we had fun working out how to erect it. At 3m x 3m, not the easiest task – pop-up? I don't think so! The second event was Newport Pagnell Carnival. The procession of floats passed right behind the gazebo, so it was fun to watch. There was also jousting and other events in the main ring, as well as the funfair and stalls. We managed to sign up around 100 people as new members, which was great, as we need as many people as possible to add their support and give a voice to local concerns.
Why become a member?
Trust membership is open to anyone over 16 and living in the hospital catchment area. Members get to vote for a public governor to represent their area. They receive newsletters about the Trust and may be asked to participate in surveys to help the Trust improve services. Members can attend the annual members meeting if they wish, and meet their governor if they have comments or concerns they want to raise. As a perk, members also get access to a discount website which offers money off a huge range of services and online stores.
If you would like to contact me on any matter then please use [email protected]
If you are interested in becoming a Trust member, or running for a governor post, then please contact the Trust Secretariat via email at [email protected]
We look forward to hearing from you!
Last Modified: 11:09am 15/12/2022