Governor Lesley Bell's blog
28 September 2023
MKUH Governor attends the Milton Keynes Synagogue Heritage Open Day
By Lesley Bell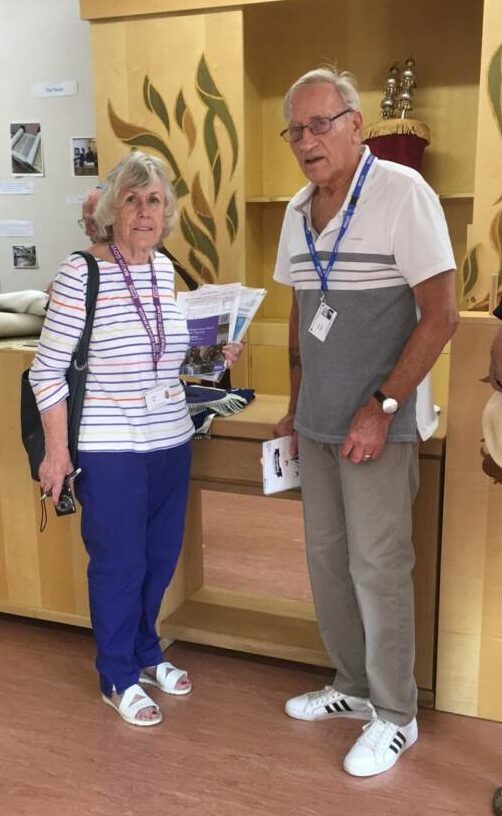 MKUH Governor John Garner and I visited Milton Keynes Synagogue in Gifford Park on 10 September as part of the local programme of Heritage Open Days.
As a Governor of MKUH, I was particularly interested in visiting the synagogue because I realised I had never visited one before and personally know very little about the Jewish faith. I wanted to learn more, as it is important that the hospital provides medical services which respond appropriately to the needs of our multicultural and multi-faith population.
The synagogue was built over 20 years ago although there has been a Jewish population locally for over 50 years. It is a Reform synagogue currently serving over 90 families living in Milton Keynes and neighbouring counties. Members of the Synagogue were very welcoming and informative. They showed us around and explained the displays and the principles of Judaism.
Of particular interest was the Torah scroll – a sacred text which records the first 5 books of the Old Testament. The Torah scroll in Milton Keynes is particularly significant as it was rescued from the remains of a village in the Czech Republic, Pacov, which was destroyed by the Nazis in the Second World War. The Torah scroll has been identified as being 400 years old, and is kept in the Ark (meaning a cabinet or box). The doors to the Ark are inlaid with the Tree of Life, the leaves and branches of which spell out the words Tree of Life in Hebrew (please see picture below).
It was a fascinating visit and I would like to thank all those involved from the synagogue for their valuable time and for helping me understand more about the Jewish faith. However, I am well aware that I still have a lot to learn.
If you would like to sign up as a member of our Trust, you can do so in 60 seconds online by clicking here. Signing up is free, and benefits include NHS discount; email newsletters; opportunities to attend membership events and participate in service improvement initiatives and surveys; and voting for your local hospital Governor and even standing as a Governor in elections. You are eligible for membership if you live in our catchment area of Buckinghamshire, Northamptonshire, Bedfordshire or Oxfordshire.
For more information about MK Synagogue, please click here.